Pictured above: The Shithole Promotional Poster/Graphics: Loren Egeland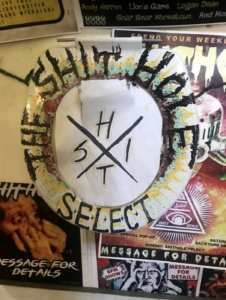 Between 2013 and May 2018, underground comedy and variety show The Shithole produced over 430 shows, featuring hundreds of performers from all over the country who have put their art on stage. I've always wanted to go to the Shithole, knowing who performed on that stage multiple times, so I checked it out.
One late Sunday evening, I was at a cross street in Northwest Chicago. The email I received instructed me to call a number when I arrived. Once I called, I was given directions to where the venue was located.
In general, the only way to find any information about The Shithole is through their Instagram account/their email by messaging and asking them for details on the next show and next venue. As soon as I got to the location of the show, I walked in and was greeted with a warm welcome. Walking inside, I found art hung by the stairs, created by The Shithole cofounder Zach Bartz and sound engineer Dan Wilcop. There were also old Shithole promotional posters, made by Loren Egeland, artwork displayed from previous The Shithole performers and classic Nintendo games—if you wanted to play before the show started. Once I found my seat, the place became packed with folx excited for what performers would show that night.
"Welcome to The Shithole!" Bartz said, who was pumping up the crowd.
He explained the rules for the show before it began. One of them was the fact that audiences members are not allowed to be on their phone. Another was asking for audience members to not chat during the show.
"Everyone is treated equally here at The Shithole," Bartz said.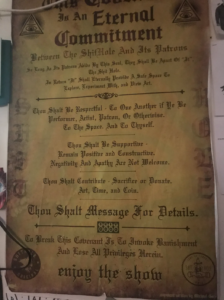 They also explained that the show is free if an audience member stays until the end. Otherwise, they would ask them to donate.
Many performers tried out material for the very first time. The Shithole's code of conduct, which is written in black sharpie on the wall, reads: "This is a safe place to explore and experiment with your art. Whether you are a performer, visual artist, director, etc., The Shithole is for you. Please come back, donate or just tell a friend."
Thanks to their code of conduct that's spread across the space, performers did not feel discouraged, and instead felt supported by the audience members during the show.
A couple of weeks later, I met with Bartz and Wilcop to chat more about The Shithole and the process of creating it.
Bartz and Kevin Gerrity, the other co-founder of The Shithole, started doing improv at Columbia College in 2011. Working together, they formed Gnar Gnar Showdown and created their own style of experimental improv that wasn't favored at Chicago's comedy clubs. So, in September 2013, they hosted their first The Shithole show in a garage in Logan Square for their friends. Wilcop joined The Shithole after the first few shows were performed. They were also joined by promotional poster creator Egeland.
Their lewd name was not for laughs; it was a marketing tool.
"It was created from a joke about creating a space called 'The Litter Box,'" Bartz explained. "And it was a riff from making fun at other theater companies. With our name, we wanted to show people we are not 'Grandpa Dave's Ha Ha Palace.' At The Shithole, we stick to our values. We want to connect to the community and artists; they're our number one priority. We ask that performers are passionate and prepared, and that they use trigger warnings if their material has sensitive content."
Wilcop and Bartz joked that the name and the fact that the show is free is another way to entice people's interests.
"Another thing that makes us different compared to other comedy venues is our dedicated audience," Wilcop said. The Shithole grew through word of mouth, along with their promotional stickers and Instagram page. Then, suddenly, it wasn't long until it drew large crowds. They started having multiple shows in garages, backyards and attics, with lineups of up to 20 to 30 people with backgrounds in comedy, music, poetry and art.
"We don't want to create a franchise here," Bartz said. "We want to connect, affect and inspire our audience and the artists we book."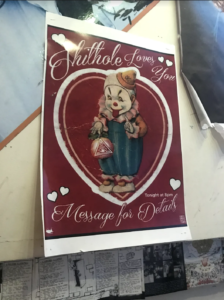 The lineups for their weekly shows (one to seven shows per week) are made months in advance, and consist of 17 to 24 performers, from veterans to folx who are going on stage for the very first time. They've even had Bob Odenkirk perform, an actor and comedian well known for his role as Saul Goodman/Jimmy McGill on Breaking Bad. Bartz compared his lineups to the remix culture, where he blends multiple kinds of art into one great voice for the audience to see for the very first time.
If an artist is interested in performing at The Shithole, the easiest way to perform is to initially experience the show and see how it runs. After that, Bartz encourages artists to email them and tell them more about themselves. To him, that the easiest way to show that an artist is invested in their craft and in what The Shithole aims to produce.
"I want to connect to them as fellow artists, and learn more about you and not your resume," Bartz said. "In the end, I want them to succeed. We get to do a show, but under our rules and make it work."
There are typically one to three Shithole shows per week. Message shitholeinfo@gmail.com for details or follow them on Instagram at instagram.com/shitholehq to learn more.
Olivia Sieck (she/hers/her) is an actor/writer who is very excited to delve into the world of DIY theater in the Chicago community. She's currently the Literary Manager at PS…Burlesque.