Pictured above: Emily Esperanza at the opening premiere of Make Out Party/Photo: Greg Stephen Reigh
After her world premiere of the featurette Make Out Party at VAM Studio in March 2018, director and writer Emily Esperanza is now working on her first feature film in California.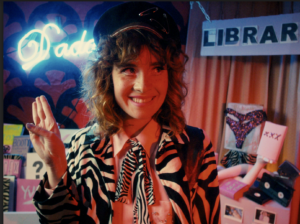 Make Out Party was conceived as a no-budget, high-style comedy of errors that follows three vibrant characters through a day of misadventure as they set out to attend hostess Mary Woah's Make Out Party. The featurette was presented as a part of Chicago Underground Film Festival's 25th Anniversary as part of the CUFF's 25th anniversary and Full Spectrum Features. Each of the evening premieres culminated as celebrations of DIY filmmaking and artmaking, which included a screening of the film; live performances from cast members, local theater artists (like Alex Grelle, performance artists and musicians, and Make Out Party-themed carnival games, prizes, and of course, a kissing booth.
Esperanza spoke about the DIY process of making the film, working with Chicago artists and her gratitude for all those involved with and at the premiere party.
Creative beginnings
Esperanza is originally from the Los Angeles area and grew up in New Mexico. She has lived in the Bay Area, Europe and Chicago. Recently, she returned to her roots in California to work more on her craft. To Esperanza, her creative spirit has been present ever since she was a child. Because both of her parents are artists, they were always supportive of her innovative endeavors. Her mother is a photographer, so Esperanza grew up being in front of the camera. In the film industry, her first position was that of an actor; early on, she got an agent to help her get work.

"I am half Mexican," Esperanza said. "My agency kept typecasting me for auditions based on my heritage. They had me read for characters that were very offensive to my culture and me. I stopped working with the agency when they sent me to do an audition that dealt with the Border Control."
Making Make Out Party
Esperanza moved to Chicago in 2010 to attend The Art Institute of Chicago for Film/Video/New Media. She left Chicago in December 2016, the same year that she was selected as one of Chicago's New City 2016 'Film 50' directors. But, Esperanza regularly comes back for visits, work and screenings, like she did for her March 2018 premiere of Make Out Party.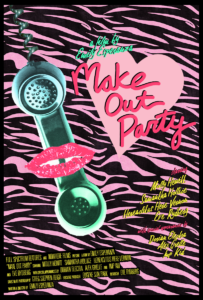 "I came up with Make Out Party around the time I was leaving Chicago," Esperanza said. "I wanted to create an opportunity with Gregory Stephen Reigh, Molly Hewitt and other artists in the city. I wanted this light-hearted film to be a farewell to a city that means so much to me."
The film took around one and a half years to make. She had a $1500 production budget for her 25-minute film. Making Make Out Party with a micro-budget was "not easy"—it was challenging and often preventive. But, overall, it was made with the effort of the community who made it. and there were many things having "no budget" prevented us from doing. Despite all that, the film could not have been realized without the community who made it.

"It took an incredible amount of hard work and dedication from the cast and crew to make it possible," Esperanza said. "The artistic community was so encouraging of this journey that they donated food for the cast and crew, as well as using their location as part of the set."
After filming the movie, the interest grew for promoting Make Out Party. And about a year ago, Eugene Sun Park—the founder of not-for-profit Chicago-based production company Full Spectrum Features—came to Esperanza because Park wanted to produce Make Out Party. The marketing of the film lured people's attention as they dove into the festival circuit. Full Spectrum Features also set up a crowdfunding page to help promote the film, and many folx from the artistic community supported it.
Make Out Party was created with inspiration by the Chicago community. Molly Hewitt, one of the production and costume designers of the film, and Esperanza collaborated stylistically using aesthetics from the 1950s to 1990s as an organic mashup to create their own world for the film. Jack Smith, a queer filmmaker and pioneer of underground cinema from the 1950s to the 1960s, is Esperanza's personal idol; she borrowed his concepts for her film, like equating trash to treasure and the underground, guerrilla approach to filmmaking.
"I've noticed the most beautiful and fresh pieces of work are set in people's homes like attics, lofts and backyards," Esperanza said. "That kind of stuff is real to me."
Connections to community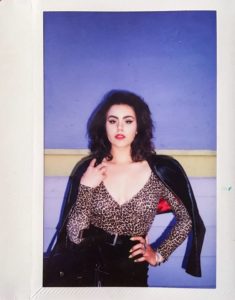 The film is connected to the queer, artistic communities by challenging stereotypes like gender and sexuality. But in truth, Esperanza said that she didn't have that idea when she was writing the film and working with friends in the artistic community.
"It just happened like that," Esperanza said. "We weren't planning to make a queer film from day one. I didn't think of making one when I was writing it. It happened to be a queer film because the people who were working—including myself—are queer."
To Esperanza, creativity is a must when you have to overcome a small budget for a film. Her advice for up and coming filmmakers wanting to create their first project? Just do it.
"There are no excuses," Esperanza said. "It's never gonna be enough if you work on one little thing for a week, with a big budget and always focus on the tiny details. All you have to do is use your problem-solving skills and you can easily overcome anything."
On June 30 at 8 PM, Esperanza's Wretch Woman Series will be playing at Chicago Filmmakers at 5720 N. Ridge Avenue. You can buy tickets at http://chicagofilmmakers.org/screenings/2703. For information about Esperanza, you can find it at https://www.emilyesperanza.com/.
Olivia Sieck (she/hers/her) is an actor/writer who is very excited to delve into the world of DIY theater in the Chicago community. She's currently the Literary Manager at PS…Burlesque.