Pictured above: Matthew Romriell in Red Noses at Northern Illinois University/Photo: David Booth
This is the third installment in a five-part series entitled "Building Consent Culture," which defines and explores Consent Culture as a best practice to address the theater and performing arts industry. This series will feature artists of multiple disciplines dedicated to the advocacy of consent culture in Chicago's DIY theater and performing arts scene
CW: Sexualized Violence, Sexual Assault.
My name is Nick. My pronouns are they/them.
I've seen and experienced sexualized violence in my workplaces. I've been asked to compromise my bodily autonomy in the theater.
I've been asked to be an actor who always says: "Yes!"
I did not always understand the severity of what I experienced. I know that I am not alone.  I'm calling for this to end.
#MeTooToThisEndsNow
As the national conversation regarding sexualized violence gains more recognition, Chicago's theater community has had to face some of our most difficult and uncomfortable truths:
Our theater has been a breeding ground for unsafe and unethical practices

Our theater has valued "authenticity" over responsibility

Our theater still exists in one of the most segregated areas in the country

None of our progress will be of worth if our work is not intentional and intersectional
With all this in mind, the question remains:
How do we move forward?
The harsh reality is that this is not a new question. In the vast and rich history of theater, we have yet to make significant progress in creating and maintaining practices which advocate for the safety and well-being of performers. Therefore, we must continue to innovate and find new solutions. But how do we change the face of our culture?
We listen
If you are reading this and are a survivor of sexual assault, harassment, workplace violence and similar experiences, please know that we believe you, we support you, that this is not your fault, and that you are not alone. Please also know that this is not contingent on whether or not you've elected to disclose your experiences to anyone. If you have, that took a lot of courage and power and that is noble. If you have not, you are just as valid and worth of care and support.
As a writer, I am someone who is paid to speak (or in this case write) my own personal values and believes. Consequently, it can make me feel that I have not done enough to listen to my peers and the survivors in my community. Rather, I feel that I am working from my own points of view. At the core of my belief system is that we must actively create space for each other. We must listen to each other. We can't all be authorities on every subject. No single one of us can solve this, so let us find power in community.
This installment of the Intimacy Direction series has been designed to be an act of listening, not speaking.
For this reason, I have elected to allow the words of others to hold my focus, our focus. We must create space for each other to speak our truths and to honor each experience as valid, even if it is a dissonance with our own.
Please hear these courageous voices. Listen to survivors.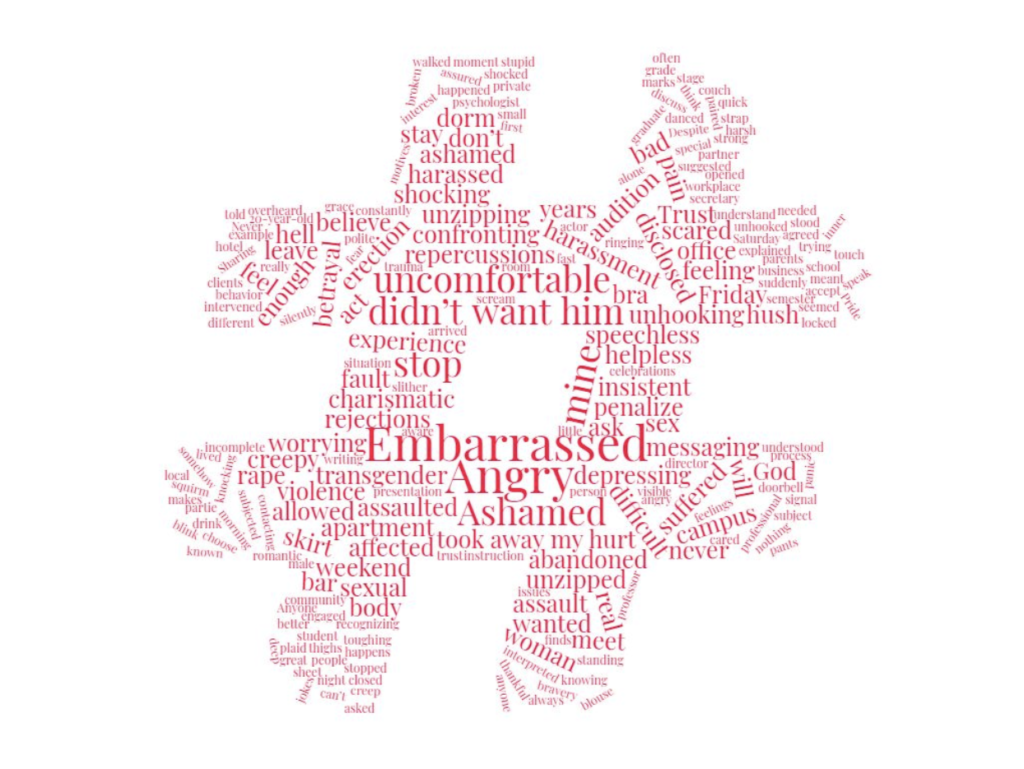 Their courageous voices: a cross-section of survivors of sexual violence
In preparing this segment of Building Consent Culture, I collected stories from generous and courageous survivors of sexual violence in hopes of demonstrating and sharing the common experiences of being a survivor. These folx are womyn, transgender, queer, transfeminine and/or gender non-binary and between the ages of 21 and 26. For supplemental text, I also followed the brave survivors sharing their stories using #MeToo.
"I am having a very difficult time knowing that there were people around me who could have intervened and did not"
"I don't see him as a bad person in anyway; I just feel helpless in trying to ask him to be aware of his behavior."
"Have I experienced anything meriting a #MeToo post? Does catcalling count? Does being groped on a dance floor count? Would my participation trivialize the experiences of those who have been through worse…"
"And I was blamed for it.
I was told not to talk about it.
I was told that it wasn't that bad.
I was told to get over it."
Their courageous voices: conversations with intimacy professionals at the forefront of this work
I also found it would be entirely necessary to put the pioneers of Intimacy Direction at the forefront of this conversation. In my work on this piece, I was connected with numerous professionals of varying degrees of experience with intimacy work. In sourcing the following interviews, I sought to find a better understanding of how each individual artist interpreted their work as an Intimacy Director and the way in which their work interacts with the greater artistic communities.
I interviewed intimacy professional Daniel C. Brown to learn more about the professional perspective of intimacy direction:
・・・
What makes Intimacy Direction a necessity in the theatre?
Brown: I think it's a necessity because if we don't find a way to safely craft the intimacy and come in with a game plan we are cheating the production of some of the most beautiful, passionate, vulnerable, and iconic parts of theater.
What is an IDI director able to offer a production that a non-trained "intimacy director" could not?
Brown: Working with Rachel Flesher has been so eye-opening in that it's amazing how she sees people and reads them. I think someone who is trained can bring that eye in without being at the mercy of their own vision. Many a time have Rachel and I come in with an idea and molded it in the room or later in our workspace based on what the actors' needs were. And I think that's a skill that comes with training.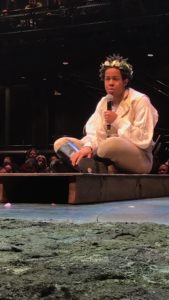 How do you respond to the criticism that it is not always economically feasible for theatres to afford to hire or train an intimacy director, especially economically underserved communities?
Brown: I know times are tight but I promise that it is more possible to hire an intimacy director than some people want to let it be. You may not be able to afford ANY intimacy designer, but a lot of us are willing to do the work for cheaper than others in order to see a change in the process. If you wouldn't budget money for the safety of actors emotionally then it would honestly surprise me if you hired a fight captain. As far as I am concerned the necessity is at the same level.
Similar to the above mentioned, in what ways do you see Intimacy Direction expanding accessibility for otherwise marginalized communities?
Brown: In my experience, I've seen people being trained under those who have been around for a while so often. It truly is rapidly expanding to the point where soon (I can only hope) there won't be a program in the Chicago area that doesn't credit an intimacy team.
Where do you see the future of Intimacy Direction?
Brown: I'm honestly not sure EXACTLY where it's headed, and to me, that's the nature of the beast. Every process I've been a part of has been so different with the exception of one rules: "protect the emotional well being of those in the room". For some, that means creating in the room and letting actors be a part of the building process and to others, it means taking into account everyone's means and making sure they are met outside of the rehearsal room. This field can grow in many directions I think and I don't necessarily think that it can be wrong so long as that is kept in mind.
Free from the guidance of questions, is there anything else you'd like to say?
Brown: I want to say that this work is so important and filled with such passionate people. So if you are looking to join in on the process please know that you'll be jumping into a great community of well-meaning people who will fuel your passion like gas to a flame.
・・・
We are very grateful to Brown for offering his perspectives on intimacy work and its role in facilitating a movement in the arts that hold us accountable. Each professionals insight provides a framework for each person, regardless of their experience with intimacy direction, to deconstruct their own relationship with consent and the arts.
Call for submissions
Taking on this project with Scapi Magazine has been of the highest honor. I've felt incredibly privileged to have worked quite intimately [pun intended] with a diverse group of survivors and professionals. Writing this series has been affirming, challenging and inspiring. Identifying as a survivor is difficult at times. I find that, in many ways, I am still searching for ways to put some type of closure on my own personal experiences. As a writer, I can't help but identify parallels in the way in which I am searching for ways to finalize this series. In speaking these truths, I realize that closure isn't always the answer. This work, like our healing, does not end here.
For this reason, I'd like to invite you all to join me in the curation of our final installment of the Consent Culture series.
By clicking here, you will be redirected to a Google form, which will be our vehicle to curate the voices of our readers.
The submissions we receive will be used in the creation of our final installment of this series, which will be a community healing project in the form of a multimedia art piece.
If you have additional questions about the submission process or Intimacy Direction series, please feel free to contact me personally at nbenz16@gmail.com for further questions.
Stay tuned for the next installment in the five-part series, Their Courageous Voices Continued.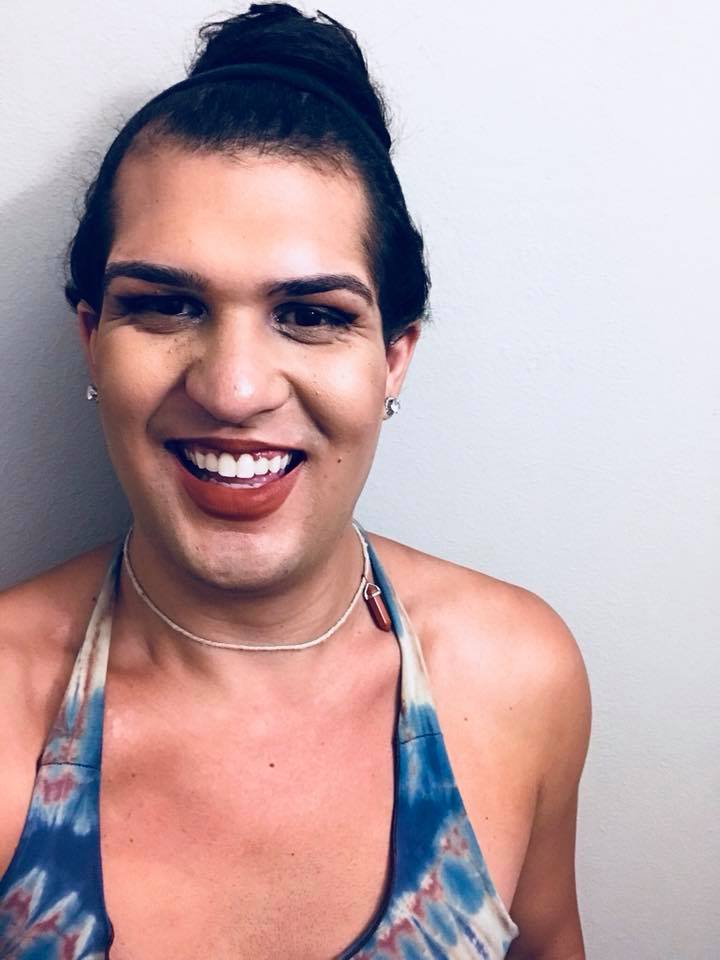 Nick (they/them/theirs): A Bio-Haiku (Baiku??)
This is Nick's bio
They are a theater maker
So they do not sleep
Nick Benz is a Trans* identified writer, theater practitioner and aspiring goth gf. Nick is a (soon-to-be) Graduate Student at Virginia Commonwealth University studying theater movement pedagogy and intersectional higher education policy.