Photo: Ariel Atkins
In a world where politicians are continually ignoring their constituents, especially those who are people of color, community organizers Dorothy Holmes and Maria Hernandez have made their voices heard through local, grassroots activism. These brilliant organizers stopped by Scapi Magazine to discuss their experiences with trying to get through to politicians and their efforts to make Chicago a better, safer place.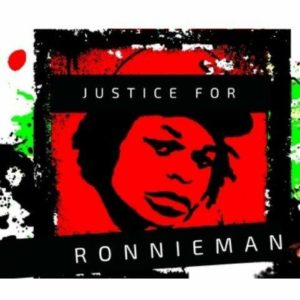 Dorothy Holmes is the mother of Ronald "RonnieMan" Johnson, a young black man who was murdered by Chicago police officer George Hernandez on October 14, 2014. In the process of leaving a party Johnson and his friends' car was shot up causing them to disperse.
As he was running for cover two police officers saw him, assumed criminal activity, and one of them, George Hernandez, shot him in the back. Ever since the incident Holmes has been working towards finding justice for her son's murder with the help of Black Lives Matter activists, represented today by Maria Hernandez.
Most of her efforts to get her son's case reopened have been ignored by elected officials. Holmes has reached out to Cook County State's Attorney Kim Foxx about reopening the case.
"It's been a year now since she told me she was going to look back into my son's case and get back in contact with me and I haven't heard from her yet," Holmes said. "I'm not expecting to hear from her."  
Hernandez believes that this is especially egregious because of the circumstances that preceded Kim Foxx's election.
"She was elected because Anita Alverez had to go for covering up the murders of Laquan McDonald and Ronald Johnson," Hernandez said. "So, I think Kim Fox is incredibly indebted to the community, and it's her responsibility to look into this case. We need a whole new investigation. We have information that was falsified and published and used to make it look like this man was holding a gun when he wasn't. Especially with the spree of [police] murders that's like three people in the past seven weeks. We definitely expect more."
Holmes also shared the story of her run in with Mayor Rahm Emanuel. JB Pritzker invited her and some of the other Chicago mother's who've been affected by gun violence to an event. When Holmes arrived, she saw Rahm Emanuel and went to go tell the other mothers. They decided to confront him about the police violence that took their children away.
"So I went over there like 'Let me holla at you for a minute?' He was like, 'I'm doing something for JB.' I said, 'Okay I'll stand right here.' Soon as I turn my back he ran out the door," Holmes said. "So, Maria and I run out the door behind him [saying], 'What about Snoop Augusta that was just killed by Chicago police? Release the footage! Release the audio!"
"What about Ronald Johnson that was killed by Chicago Police?' And I'm in the back like, 'Yeah, you coward!' I couldn't believe he ran. That just showed me that Rahm Emanuel is a coward and his main focus is that $95 million cop academy that he's trying to put here in the city of Chicago."
Despite "run out the door" politicians, Holmes has found other ways to fight the injustices she and her community have faced. She has organized many community initiatives from food boxes to Father's Day celebrations.
"When you go in that community, people recognize Dorothy before they recognize [their alderman] Sophia King," Hernandez said.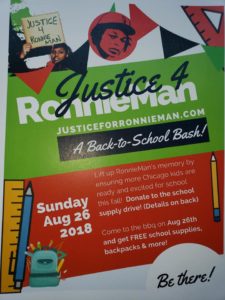 Holmes is currently working on a back to school drive that will begin August 6 and culminate in a Back to School party on August 26. Her goal is to put together 500 book bags.
"We're not elected officials," Holmes said. "We're just concerned citizens and I'm a mother who lost a child to the hands of Chicago police. And I can be supportive in some type of way, [even] if it's nothing but food. It's showing them that they're not alone."
For more information on donating to the school supply drive visit https://www.gofundme.com/ronnieman-fundraiser and for more information on how to reopen Ronald Johnson's case visit https://justiceforronnieman.com/donate/.
For more information on how to fight against violence against black bodies and support communities effected by this violence in Chicago visit https://blacklivesmatter.com/chapter/blm-chicago/ and follow them on Facebook (Black Lives Matter Chicago) and Twitter (@BLMChi).
You can listen to the entire interview with Dorothy Holmes and Maria Hernandez here.