Pictured above: Errol McLendon, RjW Mays, Kaileigh JaKirra Robinson and Brian Boller during a Breaker workshop at the Prop Thtr/Photo: Jamie Olah
I interviewed and followed Jamie Olah over the course of three months as she wrote, directed and produced Breaker, a new ensemble-devised play. Breaker is based on the experiences of Shahna M. Richman, a former FBI agent. Olah met Richman through her teaching artist gig: Richman is the mother of one of her students. Breaker tells the story of a woman FBI agent who retires and how her traumatic past affects her and the people who care about her.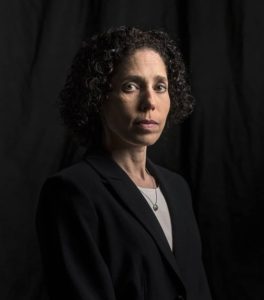 The first two weeks
Olah and her ensemble began their devising process in the Prop Theater.
"They generously provided us with six evenings of rehearsal space," Olah said. "Then we'll take a break so that I can write the script based off the work that we've created."
They grounded their process in research. Stage manager and dramaturg Sara Ann Dickey gave presentations on Post Traumatic Stress Disorder and different aspects of FBI work before each rehearsal at the Prop Theater. Richman also visited rehearsals to speak to the ensemble and answer their questions.
Augmenting their research, the cast sought character inspiration from their own lives.
"I had the actors go home and choose items that they felt spoke to their character, and then they brought them in for a show and share," Olah said.
Olah noted that the subject matter of the show was a foreign realm for the cast.
No one in the ensemble had experience working in law enforcement, with the exception of RjW Mays, the actress playing the lead character Simone. Mays is an army veteran. Still, many aspects of FBI work were new to everyone, like what would be involved during an autopsy or how to comb a disaster site for human remains.
The joys of self-producing or writing, interrupted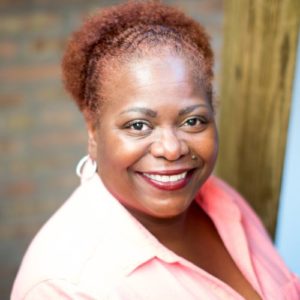 While she intended to have a first draft of the script for the cast at the end of June, Olah soon found that her duties as producer had to take the front seat.
"Writing went to the wayside," she said. "We were selected by Links Hall to participate in their 40th anniversary season celebration, so I have a deadline to submit marketing materials. All of my time [was] going into the trailer, poster, website, Facebook events and blurb writing. Playwriting [was] on hold because producing tasks are more imminent. It [was] deeply frustrating."
Always one to find a positive spin, Olah chose to think of the delay in her writing schedule as mulling time.
"During my commute, I have time to jot down notes about themes, moments or scenes," Olah said. "Things are starting to take shape. So I feel like I'm starting to write it in my head."
Crowdfunding and extending the run
She planned to dig into the writing during her two-week vacation, but because Olah is also a producer, managing Breaker's crowdfunding campaign took precedence. It ran from June 17 through July 11, with a goal of $1,300. They exceeded their goal and raised $1,870. Olah chalked up the crowdfunding campaign to "a self-producing learning experience," but not one she cared to repeat.
"I would rather ask friends and family to support the project by coming to see it," Olah said. "Next time I'll explore sponsorship from local businesses."
Olah hoped to extend the show's run after the performances at Links Hall and looked into doing intimate performances in friends' apartments. Unfortunately, she was met with firm denial from landlords at every turn. Just when it looked like the extended run might not happen, Breaker secured three more performances at Ebenezer Lutheran Church.
The first draft
With all that in place, Olah finally had time to write a first draft.
"It was just a couple of scenes based on our devising," she said. "In between those scenes, I wrote a prose narrative describing what might have happened to get from one point to the other."
Although the first draft was light on dialogue and stage action, Olah and her cast were able to form their primary narrative arch. They experimented with a devising process that Olah hadn't used in previous projects. She described it as a combination of improvisation and testing written material.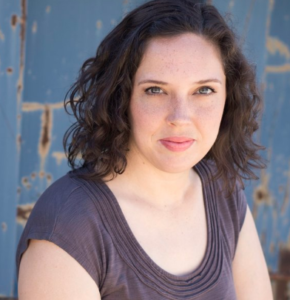 "For the prose narratives, we explored through improvisation, which I audio recorded on my phone," she said. "Then from the recording and my notes, I wrote a scene and brought it to the following rehearsal. So it was kind of a circular, spiral-shaped process."
Putting it all together
The process moved at a rapid pace, and they soon hit a stumbling block.
In an effort to respect her actors' time, Olah only called those who she was absolutely sure would appear in a scene for rehearsal. They continued the process of improvising and writing scenes, expanding the story as they went along. By mid-July, Olah realized that the only actor who had experienced all of the scenes was the main character Simone. The remaining five actors only knew about the scenes they were in during the improvisational work and lacked the whole picture.  
To bring her ensemble out of the dark, they created an outline of the entire show.
"Another actor told me that she was getting anxious because she didn't know how much material we had," she said. "Now she has a better sense of all the work I've been doing with other actors when she's not in the room."
The midpoint showing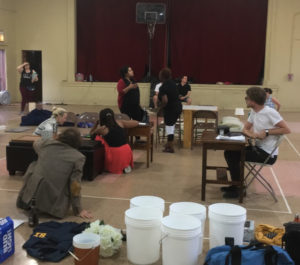 I attended the midpoint showing of Breaker in a spacious gym on the top floor of Ravenswood Presbyterian Church. Olah directed the piece in the round: the set was in the center and contained several distinct rooms. Audience members were encouraged to walk around and view the scenes as they moved from room to room.
At the end of the showing, Olah led a discussion. She and the ensemble asked viewers to speak to what stood out to them, what resonated with them personally and what didn't make sense to them. Attendants participated enthusiastically, with several people commenting on how Breaker's representation of families coping with trauma hit home.
The final stretch
After the midpoint showing, the rehearsal process took a more traditional turn.
"All the work we have done prior to now has been very collaborative and organic, with time and space given for devising," Olah said. "Time is of the essence, so we are moving towards a more heavily directed process. I spoke to the cast to make sure they were on board."
In the final rehearsals, Olah said she was excited for Breaker to open.
"It's ultimately a workshop production, so a huge part of it is going to be the audience feedback that will inform future iterations of the piece," she said. "Performance isn't the end of our process; it's a continuation of it."
Performances of Breaker will take place at Links Hall on August 17-19, at 7 PM and at Ebenezer Lutheran Church on August 28-30, at 7 PM. Tickets are pay-what-you-can. For more information and to purchase tickets, visit https://jamieolah.com/breaker/.
Aliza Feder (she/her/hers) is a DIY theater/performance contributor at Scapi Magazine. She is a director and makeup artist. In a previous life, she was the artistic director of Fermat's Last Theater Co in Madison, Wisconsin. She currently serves on the board of Chicago Mobile Makers, a nonprofit with a DIY soul that seeks to make architecture and design accessible to everyone. Learn more about her makeup work at her portfolio or connect with her on Instagram.