Pictured above: North and Clybourn Station/Photo: David Wilson
Editor's Note: This is an expression by Nick Benz in response to The State of the American Theater: Chicago Edition meeting in a playscript form; it is followed by information about the work and process.
Thank you to fellow DIY theater and performance contributor, Zach Barr, for contributing ideas on form for this publication.
Limen—A threshold. The liminal space between.
・・・
Between Experience and Presence: The State of The American Theater
Neither representative of nor independent from present reality, THE PLAY is hosted in an undefined experiential place between physical presence and emotional experience. It is neither literal or figurative space.
THE ENSEMBLE performs free from definition of characters and roles. Each member of THE ENSEMBLE is a unique puzzle piece in a complex mosaic. Together, they build an ensemble that functions as a single expression—an inner monologue, if you will. They rely on each other both vocally and physically to perform this script.
I: The Public Body
The subtle sounds of a CTA train in the distance. The stage is bear with a light haze. It is dimly lit. The stage is definitively nebulous. The following monologue opens with a single ENSEMBLE member. With each passing moment the ensemble grows in size and power. By the end they devolve into a chaos of sound and movement.
North and Clybourn is next. Next. North. Clybourn. North is North is next. And next and doors open on the. North. Open. Doors. Clybourn and on the left. Left. Right. Clybourn.
(beat)
THE ENSEMBLE continues the above as a hum—rhythmic, present, and guiding. It pulses throughout the following text, building…
(softly) Stillness. Worth. North of Left. And doors are right. Open. To Clybourn. Born in the mind, seen by eyes above—the eyes of my city, on the doors which open me. They on the left caress the right. North and Clybourn. Me. With a sweet kiss of subway stench and the confidence to tell me that I am worthy and enough. In the city, I am whole, I am charged by the mother lake. I fear not if she will swallow me whole—I know she can. I know she will. I am endlessly asking Chicago to bring me to places in which to be reborn again. North and Clybourn doesn't only excite me, but allows me to be my most expansive and honest self. On Western, I learned how to exist in a space that was both my own and communal. It was on Central Park I learned to love. In River North, I learned to be lost. The veins of this city reflect my innermost experiences. I am constituted of this place.
(PAUSE)
The lights shift. It is notably brighter. THE ENSEMBLE creates the interior of a CTA station—specifically the redline train. We experience the fullness of a CTA ride. This can be its own movement etude. How is a ride on the CTA a cross section of the Chicago community? This should be reflected through staging and movement.
Focus on ENSEMBLE, in close proximately on a train. They are close but not completely crammed. The ENSEMBLE shifts as the train stops. The ENSEMBLE personifies a city scene—the streets, sights, sounds and people. There is an energy; unrest. A buzz. The city is as alive as the bodies within it.
This is North and Clybourn
Exit up the stairs.
Another fucking set of stairs.
I hate the stairs.
I hate the fucking stares—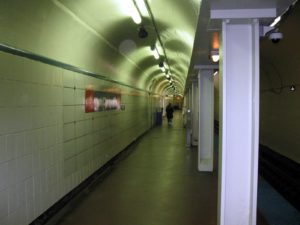 If I can't see you, you can't see me
If I can't see you, you can't see—
—that my heart is racing, you can't see
—that my I missed a spot shaving today.
Fuck
That I'm very… very trans.
Undeniably unsubscribed to the binary
…the one that has always forced male onto my body.
Too tall to pass. Too strong a jaw.
Inevitably all eyes are on me.
God, how much I wish I could be completely unnoticeable—
To be able to find freedom
No matter what I do, I am always "sir,"
Never her
He. Him. His.
These moments are—
Forever part of my own garden of self-worth;
a weed. Prickly and wrong. Like the spots of hair I missed on my left.
God, I hope no one will notice.
Dysphoria.
Right before a work gig…
Fucking great.
II: Intersections // Intersecting
Standing at the intersection of North and Clybourn.
Living at the intersection of dysphoria and confidence.
1700 North Halsted.
The Front Bar.
At Steppenwolf.
Step. Pen. Wolf.
I've made it to the door—a threshold.
I hope no one saw me walk past the door
—not once but twice
(That entrance is confusing, okay?)
Step in?
Steppenwolf.
(beat)
Maybe another cigarette first.
They smoke.
There is a prolonged silence.
The skies are dark and cloudy. It is calm before the storm. There is a sense of unfinished business. We know the storm will come, but it is uneasy until it does. A light drizzle begins.
Above me the dark night sky brews a wicked potion
Through ritual she prepares to release
Down onto me her most vulnerable truths:
A storm to cleanse us.
To provide the clearing waters,
necessary to speak experiential truth.
They release into the storm. It evokes the feeling of ritual. Of dance. There is a reflective quality to their movement. They are moving with themselves. This is an experience of self-exploration. From this exploration, they begin to ask themselves: What is the State of the American Theater?
III: Duet
The Front Bar at Steppenwolf Theater. The stage has remained bare, only THE ENSEMBLE to create our physical space. The bar wraps around the center area, with guests dispersed throughout. The crowd wants to champion diversity, but it's simply not the truth—they are all able-bodied. They are generally between 20-35 years old. They are disproportionately white. This isn't a read on them, but rather an opportunity to critically evaluate our social structures. Who has come to the table? Who has not?
Oh, and they are all staring at me.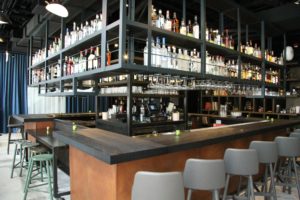 Hello! How's it goin'? Can I get you a drink?
There is an embodiment of uneasiness and uncertainty, skillfully woven together with the physical need to be at rest– to seem at ease. These two experiences are in a fluid conversation.
Shit… It's a professional event. Do I drink? No! Yes? There are drink specials for this event. I guess I can?? But will I be the only one? Uh… Rose, all day! (Jesus, I am so awkward right now..)
(beat)
Hey… do you know where the meeting is happening?
I don't know who I am looking for,
I say with a tone of apology.
Why do I do that?
Why I am always apologizing?
"The State of American Theatre meeting is everywhere," I am told.
How unintendedly profound.
The State of American Theatre is meant to be a very informal living discussion.
Free of structure
Therefore of power,
Of a formal meeting.
Free of hierarchy.
Free of caring about who is from where, or who you know.
What is The State of the American Theatre?
How is the space we currently share a living cross-section of the theater community?
(beat)
Across the room. She is radiating. A bright white light.
There is a visible magnetism between them. It is not romantic or sexual. We watch them slowly move closer.
Hello
—Hello!
(pause)
We're introduced.
Now what? Talk. Talk small. Small talk.
How's the weather? Ugh.
Traffic.
Travel.
What train do you take?
Red Line. Blue Line. The 8 Bus.
Short answers. Short of breath.
Avoid the fullness of breath.
Be mindful of your space.
Not all people are your tribe.
Impress.
Be professional.
Be real.
Not too real.
Leave her, meet him…
Drop this name.
Time to —
—go. Go meet someone new.
Networking. Headaches.
It's a dance. Know your steps.
5, 6, 7, 8…
There is a shift in energy. They begin to dance. There is a sensuality—the experience of being in contact with another human. It is releasing. Breath. Ease.
I'd so much rather cultivate space,
where we make contact.
Real contact.
To be released from pseudo-professional bullshit.
Tell me about your dreams,
Tell me about your passion project,
Tell me about the callback you swore you should have gotten
Or how frustrating it is to feel under-represented in the market.
Tell me about the State of your experience in the theater.
Where will your armor crack?
When will charismatic gesture be replaced by sincere eye contact?
To see and be seen.
It's love—really!
Not romantic love.
Love for our work.
Love for our community.
Love for the human condition.
And when we finally have shared this love,
there is so much to be learned about the state of the American theater.
The state of the American theater is nothing more
Than a curation. A mosaic. That accounts for every single one of us.
I'm reminded that everywhere around me,
It is living breathing conversation. A dance.
It necessitates our honest; to critically ask about the state of our community.
And when necessary, to speak truth to power.  
Manifesto: We Believe
Writer's note: This section of text has been sourced from the actual conversations, birthed and spoken from the artists attending this specific meeting. Honor these artists' words. Speak only truth as you experience it.
(Repeating): My name is [any name]…
The ensemble builds another cacophony, this time of names. After some time, the ensemble also introduces the line:
(Repeating): I believe the State of American Theatre in Chicago is [improvised—but truthful]…
As before, the ensemble builds this in energy. Abstraction of movement highly encouraged. It comes to fullness of movement and voice, then…
(pause)
We believe in the power of the people of Chicago. We believe we are strongest when we fight for equal pay and treatment for all of us. We believe that barriers to accessing theater should be removed. We believe the kids of Englewood deserve a high quality arts education just as much as the kids in Lincoln Park. We believe that our theater should reflect the diverse beauty that is uniquely Chicago. We believe that we should destroy false idols and false narrative that have driven inequity in our communities. We believe that Black Lives Matter. We believe in that Time's Up. We believe in #NoCopAcademy in the city of Chicago. We believe all people are valid and worthy of seeing themselves portrayed on our cities' stages. We believe representation matters. We believe in self-care. We believe that in order to participate in self-care that theatre professionals deserve livable wages. We believe in making work for little to no money because we believe what we do is necessary. We believe in creating work that pushes creative boundaries. We believe the theater cannot foster hatred. We believe in the introductions of new forms of theater. We believe in devising our own stories. We believe in the reclamation of our humanity through the lens of theatre.
And maybe we don't all believe the exact same things.
But we do believe in the work we are doing.
And this belief is the State of The American Theatre in Chicago. Truth be told, I don't think it took a meeting  for us to know this—just some clarity and reflection through community processing.  
・・・
The State of the American Theatre: Chicago Edition meeting was organized by Isabella Petrini and occured on August 15, 2018 at the Front Bar at Steppenwolf Theater. The meeting brought together a diverse and eclectic group of Chicago's working theater professionals including, but not limited to: actors, directors, comedians, stage managers, interns, playwrights, critics and folx who "do it all."
Petrini aimed to provide space and opportunity for "casual conversation on what is happening in our community."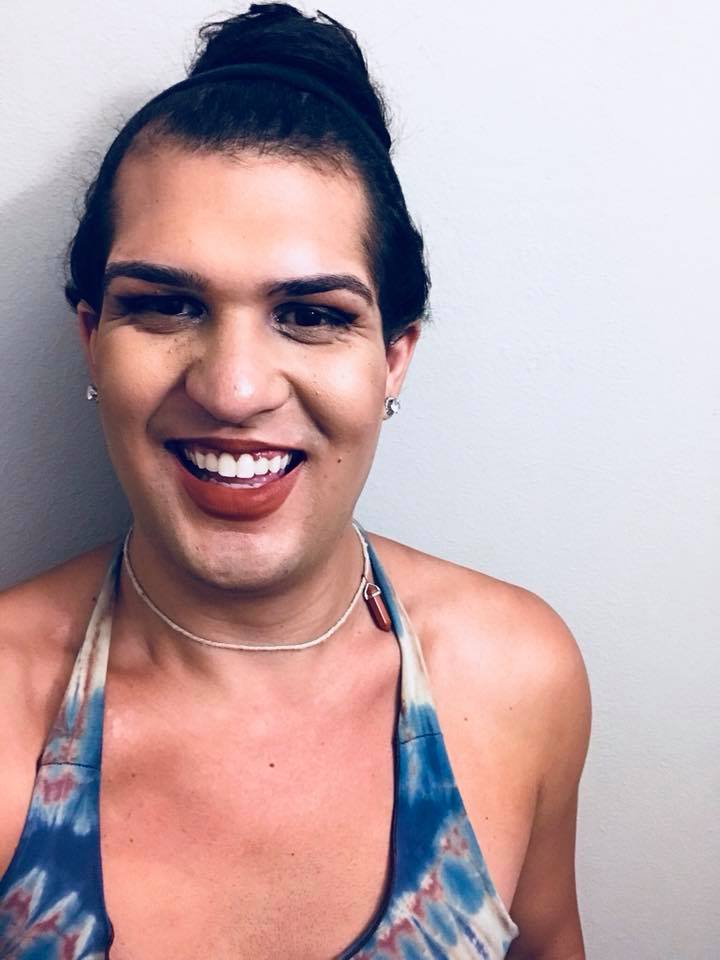 Nick (they/them/theirs): A Bio-Haiku (Baiku??)
This is Nick's bio
They are a theater maker
So they do not sleep
Nick Benz is a Trans* identified writer, theater practitioner and aspiring goth gf. Nick is a (soon-to-be) Graduate Student at Virginia Commonwealth University studying theater movement pedagogy and intersectional higher education policy.