Editor's Note: Scapi Magazine acknowledges the assault allegations and admitted predatory behavior by David Bowie. We understand that artists are complex and human, and therefore capable of hurting others,  but we in no way condone abusive and/or predatory behavior, nor do we endorse those actions.
Pictured above: Heaven Malone/Photo: Dennis Larance
There's a certain musician that's very important to me as an artist: David Bowie.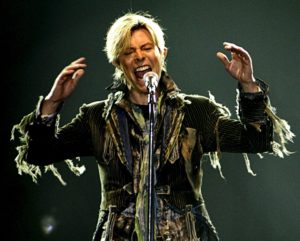 Bowie helped me by telling me it was okay to be a misfit and an outsider. He told me not to give a fuck what society said about me and to do what I felt right as an artist.
Bowie could croon a love story, but he also sang about the forbidden American ideals.
He wanted us to remember fairy tales are okay. He wanted us to acknowledge history and fascism. He wanted us to love life.
I recently interviewed fellow Bowie lover and coordinator for the event Bowie Ball, Heaven Malone. The event occurred on August 30 at the nightclub Berlin. I also was able to experience the event, after the interview.
・・・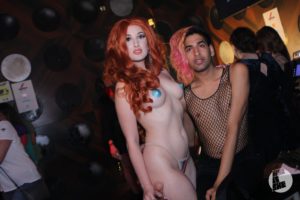 When did you first start doing the event? Why did come up with it?
Malone: Well I've been throwing Bowie parties for years, like another version of Bowie Ball previously at Rainbo Club, Bowie Ball really came into its own and made its home at Berlin Nightclub when the Museum of Contemporary Art Chicago partnered with me to help launch David Bowie's fashion exhibition David Bowie Is in 2014. I reached out to my friend Scott Cramer who has been running a party called Stardust about working together on making it bigger and here we are.
What should people expect when they come to Bowie Ball?
Malone: Bowie Ball is a celebration of humanity and the "dream it, be it" ideal of glam. Come as you are and as you aspire to be.
We've had some of the most amazing and outrageous drag performers to grace our stage, with the fabulous Lucy Stoole as our MC and lead performer.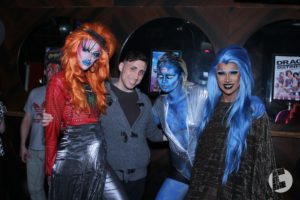 We've featured live musical performances of Bowie's music, interpreted by amazing artists such as Chris Connelly (Ministry/Sons of the Silent Age) and Max Goldstein (Yoko and the Oh No's). Even I've been known to pick up a guitar every now and again.
And we feature a glitter and glam makeup booth, to help add a little sparkle and lightning bolts to your life.
I DJ all Bowie, all night. His catalog is so massive and varied that we never have to repeat the same song. So please, stay all night. This is a call to all rebel rebels, after all.
What's your favorite moment from the Bowie Ball?
Malone: The Museum of Contemporary Art Chicago told me that Bowie Ball was the first time that David Bowie acknowledged that David Bowie Is was coming to town. We got a few shout outs from him and his wife Iman, which made being there and doing all this feel officially approved.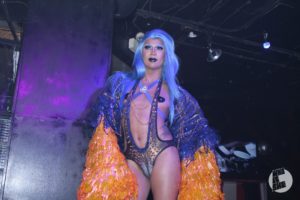 As for things that have happened physically at Bowie Ball, there are too many. I've looked through some of the photo galleries recently, and I'm shocked how much I missed. And I was there for all of them!
One very personal moment for me was when we held Bowie Ball on his birthday, right before he passed. His album Blackstar was released at midnight that night, along with the music videos, and I played them… and you just knew, even though you didn't want to. That night I got on stage, played guitar and sang a few of his songs. I was a bit shaken, and I almost didn't. But I asked myself WWBD? And I gave it my all and I was proud that I did. A few days later, I woke up at 1 AM and I looked at my phone and I knew it was true.
What does David Bowie mean to you as an artist?
Malone:  He's always been in my life. As a child growing up in the 80's with a widowed mother, Bowie was kind of a father figure. And perhaps this explains my love of puns, assonance and the esoteric. Art as Artifice. Wit. Conversation. Sharing a laugh. Encouragement. Creating a mythology. The extent that you can choose who you want to be, and in that, shape reality.
What's your favorite Bowie album?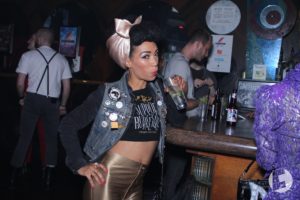 Malone:  Outside. Bowie was ridiculed in the 90's during this period. But it was such an exciting time. His renewed partnership with Brian Eno. The insane sounds of guitar virtuoso Reeves Gabrels. Working with Alexander McQueen on wild costuming. His digital pioneering in the dawn of the Internet, like starting his own ISP, known as BowieNet. His deep knowledge of contemporary art, and his own art world hijinks, all which I'd encourage people to read up on. Fucking fascinating.
・・・
On August 30, I had the opportunity to experience Bowie Ball at Berlin Nightclub. It was such an enriching experience. Guests who attended the party were there to celebrate Bowie and celebrated their love for his work. There was also amazing Bowie cosplays, which included a couple who dressed like Jareth and Sarah from Labyrinth. Their outfits deserved so much praise.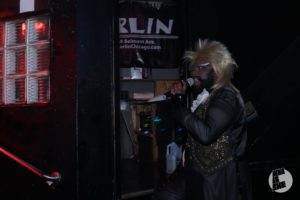 The night opened up with Lucy Stoole, the Mistress of Ceremonies, coming in dressed as Jareth the Goblin King. And let's be real; she looked hot with those tight pants and a purple coat. She pulled it off like the 10 she is.
The first performance of the night was by Max Goldstein of Yoko and the Oh No's, with a live Bowie Performance. I loved his powerful tenor voice; it felt like Bowie was on stage at that very moment. My favorite song choice was Let's Dance; I couldn't stop swaying, listening to his seductive voice.
My top LQQK and show altogether was by drag king Travis Fiero. Their performance of Space Oddity was so haunting and beautiful that I couldn't take my eyes away from it. The makeup was alienesque; I could see Bowie looking down on us, smiling with joy. Other prominent LQQKS of the night were Discord Addams, O'laysia Fempuss and Switch the Boi Wonder.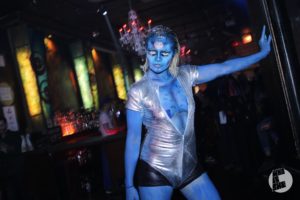 I absolutely adored the cocktail list they had the bar. I had a Moonage Daydream and it was delicious! Adding the edible glitter was a perfect touch to the drink. If I had more money I would've loved to try a Rebel Rebel—a prosecco cocktail mixed with pomegranate liqueur—and a Blackstar—black spiced rum mixed with Kahlua. Also near the bar, there was a glitter and glam makeup booth where Jforpaydotcom gave attendees fabulous Ziggy Stardust makeovers, so their life would never boring.
Celebrating David Bowie that night was a wonderful, loving experience and helped bring so many people together.
Heaven Malone is a Chicago DJ who quickly became immersed in Chicago's goth-industrial scene, producing events with classic acts such as Ministry and My Life With The Thrill Kill Kult. As David Bowie Is…, the multi-media museum fashion exhibition of acclaimed rocker David Bowie came to Chicago, Malone DJed and produced multiple Bowie Ball events, sponsored by The Museum of Contemporary Art. David Bowie and his wife Iman posted about Bowie Ball across their social media accounts. This year Heaven is creative directing and producing the Mad Men tinged party series Agency Afterhours on the Cerise Rooftop at Virgin Hotels Chicago, as well as the witchy Rhiannon: The Fleetwood Mac Pop-Up event at the Rookery. More information can found at heavenmalone.com.
Olivia Sieck (she/hers/her) is an actor/writer who is very excited to delve into the world of DIY theater in the Chicago community. She's currently the Literary Manager at PS…Burlesque.