Pictured above: Production photo as part of Charged Spaces/Changing Bodies/Photo: Courtesy of Pivot Arts
We were on Chicago's North Side in the Institute for Cultural Affairs about to see the first of Charged Spaces/Changing Bodies, a three-performance series. The night began as I would like every night of performance to begin: we were given a seemingly boring office building address on the North Side and then led up an elevator which had a secret code to get us to the right floor. My group feared this code and exited the elevator two floors early and walked our way up to the space. We entered into a dark wood-paneled room for Notes on Territory by Anna Martine Whitehead.
Pivot Arts was the impetus behind the three-performance series, in conjunction with Chicago Architecture Center's Open House Chicago festival. The night was a massive collaboration between city, producers, and artists. Pivot says it wants to create a home for "contemporary and multidisciplinary performance," and in Charged Spaces/Changing Bodies, these goals were certainly pursued.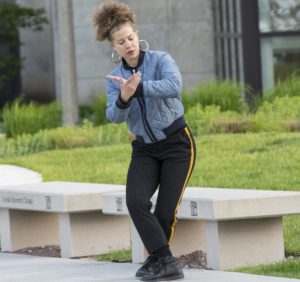 Whitehead's piece, Notes on Territory was billed as, "part performance and part installation." Whitehead also performed her work, a single movement sequence broken up and weaving in between a lecture on art history, slavery, architecture, and meaning. We began in a wood-paneled room, but quickly shuffled into the adjacent room where Whitehead began her performance. She was backlit by a massive photography diffuser emanating from behind a door and made slow halting progress across the room. Shapes appeared in her frenzied movements: work, chains, home, family, prisons. This was all accompanied with visuals of cathedrals and churches projected behind her, a table topped with haphazardly stacked chairs and a soundtrack of the artist's breathing played on a loop. From this first room, Whitehead reverse-army-crawled out, closing the door behind us with most of us still inside. I had the courage to open the door again and we found her upright and ready to deliver a lecture. The nature and history of crosses was our topic this evening, how they became the foundational shape of prisons and castles, which then became structures of slavery during the African slave trade.
A stand out moment was when Whitehead opened the floor to us as the audience—her class, so to speak—and asked us a question: "Can you think of instances, historic or contemporary, of Black Joy separated from the struggle?"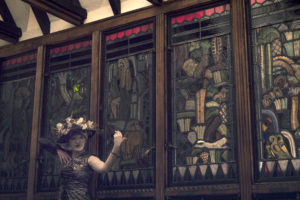 We thought upon it. I offered Ava Duvernay's A Wrinkle In Time as a possibility; others opened the discussion to the universal joys of life like childbirth and marriage. During this, Whitehead crawled on hands and knees across our seated bodies like a cat, moderating the discussion and asking honest questions: "I'm hoping to find an answer to this question by the end of the weekend," she said.
After Whitehead thanked us, we were led out of the building and around the corner to the Lawrence House. As our guide told us, the Lawrence House formerly held elderly housing before being restored and renovated into luxury apartments. This renovation included hand cleaning and detailing the original Art Deco glass skylight in the lobby where the next performance would take place.
The next piece was Les Chanteuses du Rien by Sara Zalek, Elaine Lemiux and Hanna Brock. This performance was actually halved by Five Stud Stud and utilized two different spaces. What was interesting about this piece was that it used its space as a fourth actor in the performance. The performers "employ[ed] genres of classical scores, experimental opera, improvised sound, expanded cinema, and Butoh dance to explore the lobby and swimming pool space at Lawrence House."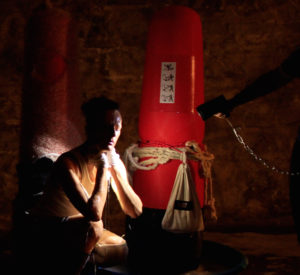 In practice, this was the three performers roaming through the lobby of the Lawrence House creating a mix of noises and music with their voices and interacting with the objects they found. One performer created a beat for the other musicians by ripping and slapping copies of a newspaper she found on a table together. In the swimming pool space, later in the performance, they introduced a violin and something like a flat, wooden accordion which produced a drone throughout the piece. In this environment, the music was less experimental and more classic, leaning towards the "experimental opera," rather than the "improvised sound" end of their spectrum. The women traded the gold dresses of the first half of this piece for bathing suits of recycled materials and long trains of plastic painters tarp. Finally, the piece culminated in one performer, the main singer, lying as if dead on the edge of the pool, with the other two discarding their trains and splashing through the water.
The third piece of the evening was Five Stud Stud by Carole McCurdy and performed with Jon Poindexter. According to our program, McCurdy and Poindexter "explor[ed] the spectrum between violence and tenderness." This was done through a set of inflatable punching bags that were covered in what looked like handmade crochet and other fabrics. The performers railed on these punching bags, but grew tired, turned to each other and the bags themselves for comfort. At times, they seemed like they were apologizing to the bags for the violence they had done to them before, only to cycle back to that same aggression. After two 'rounds' in this boxing ring, the performers invited the audience to explore the spectrum: explore punching and hugging, petting and kicking the bags as we joined them.
Charged Spaces/Changing Bodies challenged the audience to think, feel, act and most importantly, react to what was happening around them and to the spaces these events were in. At the Lawrence House, we had the added element of people who were not audience members joining us from the lobby bar, be they visitors or residents of Lawrence House. During Five Stud Stud, two tenants were using the gym space alongside us, as we watched and punched.
Though Charged Spaces/Changing Bodies has closed, Pivot Arts will present two events in November. First, PIT91 by Jenni Lamb, a staged reading of a new play-in-progress with puppetry and movement on November 17 at 3 PM at Jackalope Theater's Frontier Space 1106 West Thorndale Avenue. Second, Pivot Arts teams up with Defibrillator Gallery + SITE/less Performance space to present Video Corpo, a festival of video work celebrating movement-based artists who have used video as an extension of their practice, on November 16, November 17 and November 30. More information on both events can be found at pivotarts.org/events.
Jacob R. Shaffer (he/him/his) is a dramaturg and playwright working in Chicago to create impactful and revolutionary theater in community. He recently graduated from Millikin University with a degree in theatre specializing in dramaturgy. He is also co-artistic director of fti Theatre, an immersive theater company devoted to found spaces and reimagining classics and new works. When not writing or reading, Jacob enjoys cross stitching, queer theory, arguing about politics, playing RPGs and listening to podcasts.