Pictured above: Katie Gonzalez, Julian Stroop, Henry Greenberg and Anne Smith in Strawdog Theatre's recent new work, Masque Macabre, co-directed by Anderson Lawfer with Eli Newell and Janet Howe/Photo: Clark Bender
Since moving to Chicago two years ago, I've heard rumors—beautiful, flattering rumors—that Chicago is the place to be for developing new work. It's something I've heard multiple times, in different settings, from many people.
But what is it about Chicago that makes it such fertile ground for workshops? Has everyone had that experience, or have I encountered an inaccurate, but very vocal, sample size? I asked a few people in the theater community about their experiences creating new work in Chicago to find out, and came up with several theories:
Theory #1: The Gang's All Here
Co-Artistic Director of Strawdog Theatre Company Anderson Lawfer has been making theater in Chicago for years. He cites Chicago's unique culture of ensemble theaters—in contrast to the many commercial houses in New York and Los Angeles—as a major advantage to creating new work.
"There are people you've collaborated with on numerous other things," Lawfer said. "You don't have to spend time on pleasantries, and you don't have to take all those steps to build trust. We can get right to being honest, which I think is really important for art, in general."
Co-Artistic Director of (re)discover Ann Kreitman had a similar experience.
"I have a choreographer I've worked with on few projects and a dramaturg that works with me on a lot of editing," she said. "I hope I never stop creating with those two, and we've developed a language. We can tell each other no and be honest and upfront."
It seems that the Chicago theater community itself is home to tightly-knit networks of frequent collaborators who have built rapport and trust. But Kreitman points out that there's another valuable kind of collaborative relationship that's scarce: mentoring.
"The workshop process is fantastic, but I also think reflecting—talking about struggles and successes— and processing with other directors is so educational and so helpful," Kreitman said. Because she's noticed a lack of opportunities for mentorship in the community, she's made it a point to make herself available as a mentor.
It's a point I hadn't considered. Workshopping and devising is not just about the development of the work itself, but our development as artists. That's what will shape future projects.
Theory #2: More Bang for Your Buck
Cost was the first word on the lips of every theater artist I spoke to on the matter. Chicago is simply less expensive than New York.
With lower overhead, new work creators can get more people involved.
"Most good new plays, in my opinion, come from workshops instead of just one person sitting in a room writing alone," Lawfer said. "And it's just so prohibitive to do anything in New York because of cost."
Collaborative spaces are more accessible in Chicago because they cost less to rent. And while Chicago artists certainly work hard to pay our bills, a lower cost of living, in general, might make long-term devising projects more feasible. Theatermakers might have more time to participate in, for example, a month-long devising process if they're not stressed about paying New York rent prices.
A quick Google search reveals that you can get some kind of rehearsal space in either city for $10-$15 an hour. In New York, most of these spaces are around 400 square feet. In Chicago, they're closer to 1400 square feet.
Vice President of nonprofit consulting firm Ter Molen Watkins & Brandt Anne Smith's perspective on creating new work comes from her complementary roles as an actor and a fundraising consultant.
"I do think that Chicago theater companies can take more risks and actors can say yes to more opportunities because of cost-of-living and production costs being lower than New York," Smith said.
Theory #3: Necessity is the Mother of Invention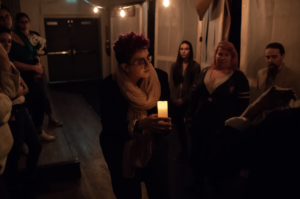 Where there are lower cost and fewer commercial theaters, does that mean there's less money to go around, period? Chicago may be less expensive, but how does that really affect the creation of new work?
"One of the pros of not having a ton of money is that you have to find new, exciting, innovative ways to tell a story," Lawfer said. "If a storefront theater decided to do something like King Kong, we would have to work to find a way to make it just as spectacular but with one five-hundredth of the budget."
This exemplifies the most pervasive attitude I've encountered—having little to work with encourages artists to be more innovative. It's the stone soup effect.
On the beauty of Chicago's scrappy innovation, Kreitman said is "that exquisite pressure."
"You have 4 people and a basketball, go make something," Kreitman added. "You need some constraints to push against. If you have everything, it gets overwhelming."
It's a tough love approach, but Chicago imparts valuable lessons for ambitious creators and devisers. The inherently DIY landscape teaches us to be flexible and self-sufficient.
"I learned how to write grants because I wanted some funding," Kreitman said. "No one taught me, I just did it on my own. That sort of skill set—making the art you want despite having no resources—is a level of ambition I'm proud to have."
Reason #4: No Need to Sell Out
Having more ensemble theaters than commercial houses may afford creators more artistic freedom.
"Many established non-profit theater companies are receiving the most funding from foundations and grants," Smith said.
According to both Smith and Lawfer, new work can thrive here because it's life doesn't always depend on selling tickets.
"Our existence doesn't rely on money from ticket payers," Lawfer said. "We often don't have to worry about what sells tickets. That makes art a little bit purer because you're making something that you want to make—not something that someone else will want to purchase."
Liberation from selling tickets means that artists can get right to the weird stuff, no holds barred.
Perhaps that's an overstatement. But it is nice to prioritize the ideas and the process of creation first, and marketability second.
The Bottom Line
At the end of the day, new work happens when you have collaborators you trust and the drive to make something you're passionate about. And Chicago has several qualities—both positive and negative—that serve as a substrate for innovative, new work.
Aliza Feder (she/her/hers) is a DIY theater/performance contributor at Scapi Magazine. She is a director and makeup artist. In a previous life, she was the artistic director of Fermat's Last Theater Co in Madison, Wisconsin. She currently serves on the board of Chicago Mobile Makers, a nonprofit with a DIY soul that seeks to make architecture and design accessible to everyone. Learn more about her makeup work at her portfolio or connect with her on Instagram.