Pictured above: Production photo from Water on the Bridge/Photo: Lia Kohl
If you've never been to Eckhart Pool, located right off the Chicago Blue Line, it's a huge space. The ceiling is curved, and one wall is entirely window, sectioned off into small squares with a scattering of colored glass panels. On March 16, the serene water will be afloat with the most unlikely of swimmers—cellos.

Water on the Bridge is a performance piece created by Katinka Kleijn and Lia Kohl, exploring cusps and paradox.

The artists explained: "The surreal setting of cellos floating in the water allows for an exploration between tenderness and violence, possession and letting go, fear and overcoming."

During the performance, the two will play 30 cellos floating in the Eckhart pool, accompanied by an electronic soundscape composed by Columbia College faculty Daniel Dehaan, as well as loops and field recordings.

The piece is as much a love song to cellos as it is a quest for evolution. As cellists, Kleijn and Kohl feel incredibly close to their instruments, having both bared their hearts to their cellos as well as fought tremendously with the instruments throughout their careers.

"We're taking these objects (cellos) which are so precious to us and putting them in a new and even somewhat hostile setting, seeing how they sound, accepting and encouraging the things that might happen to them," Kleijn and Kohl said. "It becomes a piece about the things we hold dear and how we nurture them, care for them, and let them go."

Kleijn, deemed "Chicago's first lady of the cello" by Timeout Chicago Magazine, is a Dutch cellist who revels in exploring many genres of music, from classical to experimental, improvisatory to progressive rock. She is a member of both the Chicago Symphony Orchestra and the International Contemporary Ensemble. Kohl is a cellist and multidisciplinary artist in Chicago, working with the acclaimed, nationally touring performance ensemble Mocrep. She also plays with Chicago bands Whitney, OHMME, and Circuit des Yeux, as well as tours with the puppet theatre company Manual Cinema.

The two began playing together during Instigation Festival, which is an exchange of improvising musicians and dancers in Chicago and New Orleans. The two immediately connected over their passion for their instrument and for pushing boundaries. The next year, Water on the Bridge was born.

The first two iterations took place as part of Water Music, organized by art space 60618 North and the Instigation Festival. During the inaugural process, Kleijn and Kohl collaborated with New Orleans-based cellist Helen Gillet as well as Chicago-based dancer Jasmine Mendoza. The performances used their setting around and in Lake Michigan to explore the lake as both a safe harbor as well as an embarkment point.

While some people may shudder at the thought of putting their instrument in the water, Kleijn and Kohl explain that its precisely that interaction of water with the cellos that makes the piece so compelling.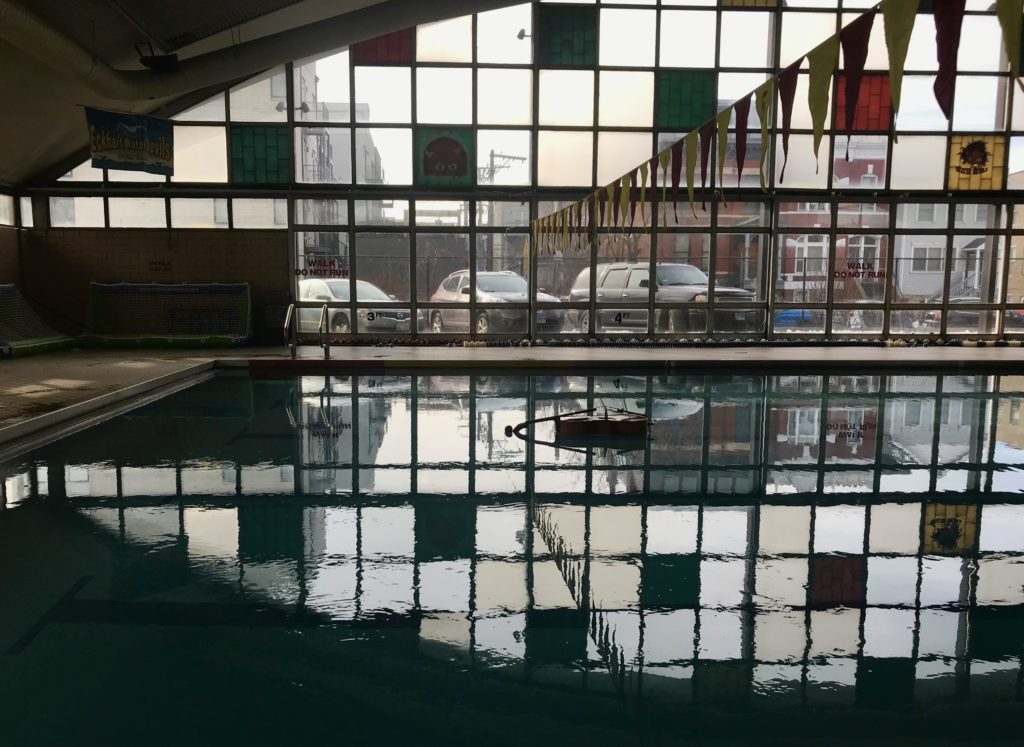 "Surprisingly, the water acts as both protection and destruction," Kleijn and Kohl said. "Though water does erode the cellos eventually, it also allows us to throw them around in a way that would destroy them on land. They also float quite beautifully—if you think about it, a cello is essentially a boat: a hollow wooden object covered in varnish."

In fact, they mentioned that the wood used for the famous 18th century Cremonese Italian instruments was floated and kept in water before use, which actually gave it a special quality to the sound. Today, a group of instrument makers at the Chicago School of Violin Making are working on refurbishing many cellos the two use for performances.

"They are the opposite of aghast!" Kleijn and Kohl said. "They seem to be really excited about taking part in this strange project."

The performance will most certainly be a delight, as well as a chance for Kleijn and Kohl to work on their swim strokes.

"I can't do the butterfly at all! I love to swim around on back like an otter," said Lia.

"My best is definitely the breast-stroke, since I used it to race against my mom as a kid…and my worst is the crawl," added Katinka. "I intend to crawl with and stroke on cellos on March 16th."

Water on the Bridge runs for one performance only at 7 PM on March 16, at the Eckhart Park Natatorium, 1330 West Chicago Avenue, Chicago. The performance is free and open to the public.

Katinka Kleijn will release an online 3D/VR video of Bryan Jacobs' 'ly ful hood' for cello and robot instruments soon. Visit katinkakleijn.com for more details.

Visit Mocrep's website at mocrep.org for more details on upcoming events and performances.