On May 19, 2019, Scapi Radio sat down with Brittany Meyer, a Chicago-based comedian and retail designer. Some the following article's reporting derives from that interview.
…
In a fell swoop of short brunette hair, chunky wide-rimmed glasses, and a seemingly endless myriad of collared shirts, comic and multi-hyphenate Brittany Meyer is presumably sipping on their favorite Diet Coke right this minute.
The gender-queer success made their Chicago comedy debut after moving from their native state, bright and sunny Florida. Now if you were to ask them what they do, Meyer would probably respond with the phrase that slashes their colorful website through and through: "I do that."
When their teenage aspirations for filmmaking fell through in a whirlwind of college admissions, Meyers defaulted to the set design program which their alma mater, Florida State University, promptly shut down afterward. They settled on interior design instead.
Their love for renovating, moving, and improving snaked its way into the quote that leads Meyer's creative life today. In 2006, when low-waisted jeans and snappy flip phones were rampant, they watched the director of West Bank Story, Ari Sandel, collect his Academy Award and recite the remembered fateful words.
"If we can't laugh at it," said Sandel. "We can't fix it."
From there on, Meyer spilled laughter into their non-professional pursuits. The ventures exist in an effort to lighten the vulnerability and identity struggle that pervaded Meyer's life as a gender non-conforming, queer individual as well as the lives of scores of other minority comics.
"The more comfortable I've gotten [in comedy] now," said Meyer with a sigh of unburdened relief. "The more I want to push it…push everything"
Over three years ago, Meyer founded their largest project to date––their defining feat. The novel show, titled gloriously as Strip Joker, is a stand-up collective where performers present in various states of undress. Lauded on by The Chicago Reader and Scapi itself, the series creates a body-positive space that includes LGBT+ comics and those of color. Unlike its inspiration, burlesque, Strip Joker does not ensure the presence of nudity in the show, though many dip their toes in its raunchy freedoms. "That's the thing about Strip Joker," said Meyer proudly. "Your nudity is never the butt of the joke. It's the set-up, not the punch line."
Meyer takes the stage themselves at Mary's Attic, the gay bar that doubles as Strip Joker's home. They're often seen in a tight strappy black harness that oozes sexual charisma and counters their borderline dorky upper-half aesthetic. It's a freeing image––a breakout from conventional pronouns and a warm-weather upbringing slinging around their clothes in the Midwest. It's empowering, and Meyer agrees.
"A very big part of my niche is empowerment," they said. "Making jokes while trying to understand my gender is a good way for me to understand it myself."
Other than by servicing the Strip Joker audience with non-risqué skin exposure, Meyer uses the series to benefit the community beyond the bar walls.
Audiences are instructed to whip their dollar bills on stage when a performer removes an article of clothing or makes them laugh. "Take out a dollar bill. Crumple it up. Throw it at the stage," they instructed. In January, Meyer decided the wastes of green bills on the floor should go to non-profit organizations like The National Abortion Fund at the end of the show. The action is a reminder Strip Joker is "bigger than probably every other comedy show you ever took part in." To Meyer, the show's comedians, and its ever changing audience, it's something more.
For work, Meyer stands at a Chicago retail design firm as one of the few queer people in the corporate world. "There's not a lot of professional queers because a lot of them don't feel safe in corporate environments," Meyer said. But the dismal statistic is one they're set to change. They've revealed their identity in full force to the team at their job, created an "ally guide" with basic guidelines, and show no signs of abandoning their mission for inclusivity.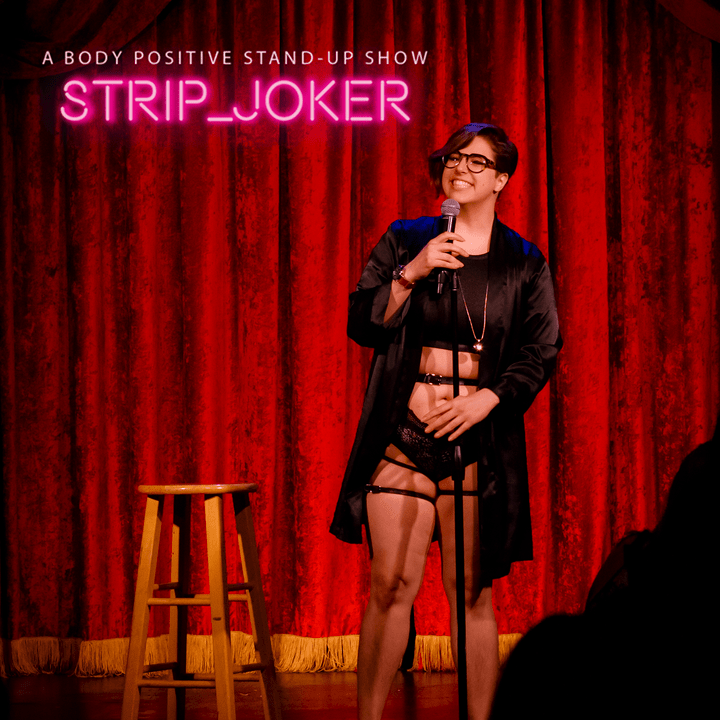 The comic even penned a Medium post about how to come out as GNC, or gender non-conforming, at your workplace after they found no answer to the question during their own online search. "I am a GNC stand up comedian taking a full time job in a real office on a floor that's higher than the number 10 in just a couple weeks," the post began. "And I've been low-key terrified of coming out in my office."
The short, three minute read revealed more than I expected: Meyer had a stint selling weed at some point, broke their ankle in an awkward act of oral intercourse, and simply wants to be addressed with the correct pronouns.
Meyer's fondest comedic memory is a testament to their self-proclaimed weirdness.
They (or more specifically their aptly-named wrestling character, Stone Cold Jane Austen) were set in a doomed opening match at CLLAW, an arm-wrestling league that melds theater with sport for the audience's pleasure. Sadly, Meyer's opponent would surely win. So in a pre-planned effort, Meyer smacked the champion in the back with the slab of wood (softly) and left them to wrestle with a fake injury for the rest of the show. It was still a loss, but a fun one at that.
The league serves their love of wrestling, which Meyer admits they would've inevitability fell into if CLLAW had not popped up on their radar. (But seeing that Meyer stands as a short yet surprisingly fierce person, I meekly say I doubt she would've had much luck in that front.) The series is one place Meyer doesn't have to lead––one where they aren't the founder, the co-producer, or the director.
In fact, while Meyer carries on their plank-wielding escapades on stage, they have a manager to rally the audience in their favor and collect bets on their matches. CLLAW carries on Meyer's responsibility to art and only art in its entirety, rather than the myriad of logistics behind it.
Now the comedian revels in their city life, prepping for the next monthly run of Strip Joker on the 15th and sitting in an almost painfully colorful apartment. They find that Chicago is the perfect place to do what they do. "This city has shaped me," said Meyer. "I moved here so excited, and I don't need permission from anyone. I just have to put in the energy and work, and it can happen."
Find out more about Brittany on their website. Plus, more about Strip Joker here and CLLAW here.