Pictured above: Ariana Silvan-Grau and Gabriel Levine in Josephine the Mouse Singer (2018)/Photo: Eric L. Kirkes
The announcement that American Theatre Company (ATC) would be shuttering profoundly affected the work that Dani Wieder was creating. Her newest play, La Ronde—an adaptation of Arthur Schnitzler's play about Victorian social relationships—had been in workshops for nearly nine months as part of ATC's CORE Residency when she received the call.
"My choreographer Andy Slavin and I had these generative workshops were we were seeing what this piece could hold," Wieder said. "Our main goal for the residency was to figure out how movement would function inside of the play, and build a container for that. It was a huge luxury, because we had basically a year."
Even when ATC closed down, the staff still provided her with support. "The fact that [Associate Artistic Director] Sarah Slight and [Artistic Director] Will Davis reached out to me and said, 'this is the situation, how can we make your project happen,' is the most generous, unbelievable, overwhelming thing that's ever happened to me." Wieder said.
She removed her glasses as she recounted the moment—something she did often as she spoke.
"They did not have to do that," Wieder continued. "This is a staff in the process of losing their jobs and they're still supporting the season that they programmed. That is remarkable." The rescheduled workshop took place at the Prop Thtr in March 2018.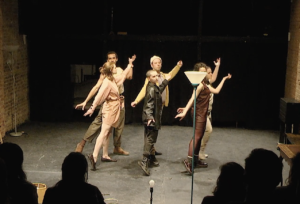 La Ronde is only the most recent project from Wieder, who—for someone who self-describes as an "early career artist"—has produced a prolific body of work. Prior to La Ronde, she helmed Josephine The Mouse Singer, an adaptation of Kafka's short story Josephine The Singer, or The Mouse Folk. The project began in a University of Chicago class called "Adapting the Unadaptable" ("which of course I had to take," Wieder said with a smile). Taught by director/writer Seth Bockley, Wieder and her collaborator Itzel Blancas staged an early version of the piece as their midterm.
"It was live actors, there were not puppets," she noted. "But we finished that project and then we thought 'yes, this story has a lot of stuff, a lot of potential.'"
When Wieder and Blancas returned to the story in 2018, for RhinoFest at the Prop Thtr, they started with the source, not their earlier adaptation.
"We decided that this play was about this town deciding Josephine's cultural value," Wieder said. "They're asking 'how valuable is art to a community?' We decided that a great way of showing that kind of rift within the town would be if everyone in the town was played by one person."
Thus entered the puppets, allowing them to experiment with the role of scale in the story.
"One of our first ideas was that Josephine would begin the play as a human body, talking to all these different mice on a small scale," Wieder explained. "So we would see this giant, larger-than-life figure with all these tiny mouse puppets. And then as the play went on, the scale would start to flip. Josephine, in her lowest moment in the play, becomes a puppet—the size of all of the mice seen earlier."
This also allowed the team to visualize the play's exploration of what someone's "true form" looks like.
"Josephine had imagined herself as a human," Wieder explained. "As this fantasy of a Ginger Rogers, Grace Kelly figure. And as she starts to realize the limits of her own power, she comes into her own body. Which is a puppet."
Kafka's story is more about the world around Josephine than the singer herself, but Wieder changed that.
"I wanted to take works and refocus the narrative around characters who they talk about, but the narrative isn't about them," Wieder said.
She cited her thesis project, in which she wrote an adaptation of the myth Andromeda. The original myth is told from the perspective of Perseus, in which he rescues and takes Andromeda.
"I was like, 'kay, well, how can we tell this story from that person's perspective?'" Wieder said.
Wieder applied this same logic to Josephine. "That story is about this town talking about this woman, and talking about her body and her voice and her talent, and that it's never about her experience. So, in dramatizing it, we got to center her in her own story."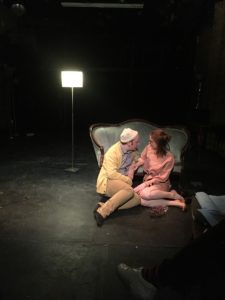 "I think there's like this moment of new play development happening in American theater," Wieder continued, "which I think is amazing. As a dramaturg and someone who cares about playwrights, I'm really interested in that. But as a director, I get really excited by my voice as a director coming into friction with the voice of a playwright."
Wieder is often attracted to directing work that is, in her words, "very, very old:" Josephine was published in 1924, and La Ronde in 1900.
"I think I can center different narratives inside of these classic plays," Wieder explained. "We don't have to throw away this canon that exists for a good reason. These plays are great. And I'm really interested in figuring out how we can make these plays for more people than they were initially intended."
Wieder's desire to recenter narratives around voices that haven't been heard doesn't just extend to her directing work. On her recently-launched blog Direct Address, she interviews members of Chicago's theater scene that are in the early stages of their careers, and have yet to be covered by a larger publication.
"I try to interview artists from across disciplines," she said. "I'm really interested in people who are artists whose practices move beyond, you know, just their specific craft. And into how that work percolates through the world."
The website's description states a desire to "invest and listen" to younger artists, who "aren't simply reproducing the ideals of Chicago theater." Wieder has nothing but respect for Chicago's history as a cultural capital—but thinks that Chicago's theatrical institutions have a tendency to lean towards realism as the primary style of storytelling.
"There are a lot of people who both work in these institutions and not, who are really making tangible efforts to shift those paradigms," she said. "Whether that is diversity in casting, or whether that is visually inspired staging…"
Wieder paused and removed her glasses, before adding, "…like ATC."
Dani Wieder is a freelance director and writer. Her writing work can be found at her blog, Direct Address at directaddressblog.wordpress.com. She was recently selected for Haven Theatre Company's 2018 Director's Haven festival, which will perform next season (dates TBA).
Zach Barr (he/him/his) is an arts writer and critic, as well as a director, playwright and stage manager. He wears, both figuratively and literally, many hats. He has contributed everything from season previews, to theater criticism, to angry rants, for Newcity Stage Chicago and Scene+Heard Magazine, as well as developing his own narrative-driven critical style via his blog The Hanslick Girls. Zach serves as Literary Associate at Sideshow Theatre Company and consistently advocates for more asexual/aromantic narratives in media. Learn more about him at zach-barr.com.