Pictured above: Jerwin Gabriel Santiago (left) and Christian Borkey (right) being interviewed/Photo: Amy Do
Many think of comedy as a coping mechanism. That somehow, it is a way to deflect from the insecurities humans are constantly afraid of someone pointing out. As if we're walking down the street and some well-meaning asshole is going to ask, "Is your chest uneven, Devin? That's not a deformation from birth, is it?" We sit on a razor's edge, ready with a response to any potential bully that might come along. Because yes, it is, asshole. Thanks for asking.
This is almost always the neuroses talking but why, as adults, are humans still so defensive? This is what Jerwin Gabriel Santiago and Christian Borkey, two students at DePaul University, have been breaking down week after week at Middle School Dance, the comedy variety show they produce. It showcases a diverse array of talent from improvised comedy, to drag performances. to breaking three dozen eggs in a minute. The show always centers around the theme of how vulnerable the middle school years are.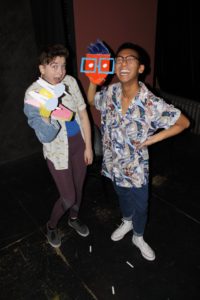 "I was going off the idea of what would happen in each room of a middle school," Santiago said, explaining how the theme came to him. "Middle school is so weird and horny and sad. Especially as queer people and people of color who never get to have their life in middle school, you get to reclaim that space as, 'I'm not who I was in middle school but I get to reflect and goof around about it.'"
The show was originally put on at The Blackout Cabaret at Second City. After two sold-out weeks, producer John Leadley offered Santiago and Borkey a 10-week run at Under the Gun Theater. They accepted and are currently in week eight of the 10-week run.
Since then they have only been getting more efficient and honed in their craft.
"When we first started this, Jerwin said we need to book all of the acts a month in advance, which is so funny because we wrote Sheldon Cooper: The Musical this Tuesday," Borkey jested.
Agnizab! (Bazinga written in reverse) was a 15-minute musical with at least five, full choreographed and harmonized songs centered around the idea of the character Sheldon Cooper from the television show The Big Bang Theory as his younger self in a musical. This section of the hour-long show was finished in four days.
"We're working on a very South Park schedule here," Borkey said.
But while time has been a major constraint, it has also been a major motivator for them. Each week is a new deadline, a new theme, a new set of performers and experiences that need to come together.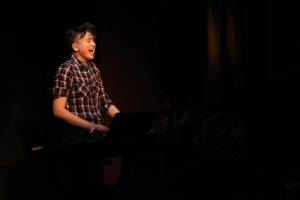 "Our age is very much something that differentiates us from other variety shows," Borkey said. "A lot of kids our age are willing to be apathetic about comedy because comedy doesn't matter yet. We're in college."
Borkey believes that Santiago's concept for the show is instantly recognizable because of its relatability.
"Everyone has been to one or knows about one," Borkey said. "It's not like Jerwin and Christian's Variety Show on a Roof!"
In a city that is oversaturated with comedy performance, it can be hard to be heard. Santiago and Borkey attribute their success to a lack of fear and not succumbing to middle school insecurities.
"At its core, Middle School Dance is this funny thing, but at the same time, it's this vulnerable thing," Santiago said. "If you're willing to show someone a picture of you with a bowl cut and braces, you're willing to show yourself in a way that most people our age are not willing to expose themselves. I think it's stupid that people aren't more willing to do that."
Each week, the seats of the theater are almost completely full with new and returning audience members.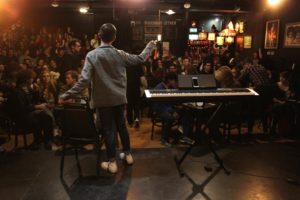 "People in comedy are like, 'What's a punchline that I could say right now?' or like, 'What's relevant that I could talk about?'" Santiago said. "I think what's most relevant and funny to talk about is how you feel about yourself and where you're coming from."
Middle School Dance is held every Thursday at Under the Gun Theater at 956 West Newport Avenue. The show starts at 10 PM and has a $5 entrance fee.
Devin Asperger (he/him/his) is from the snake and alien infested area of America called New Mexico. He has since moved to Chicago to pursue comedy of all sorts and writing of all sorts. He does stand-up comedy all around Chicago and has performed at comedy clubs like Zanies Chicago, The Annoyance Theater and The Laugh Factory Chicago. He is the Associate Producer of the comedic variety show, Middle School Dance, that had a ten-week run at Under The Gun Theater, and the coach of the improv team The 2002 Chicago Bulls. He regularly performs his newest play Nikola Tesla: Electric Messiah at various venues around Chicago.