photos by Daniel Johanson
On March 7, over 15000 Chicagoans convened in Grant Park to see Bernie Sanders speak.
Seven speakers preceded Sanders: Martese Chism, Carl Rosen, Sen. Robert Peters, Ald. Jeanette Taylor (20th), Ald. Susan Sadlowski Garza (10th); and Stacy Davis Gates. Also in the lineup was Tommies Reunion Choir, which performed gospel songs with lyrics about Sanders beating Biden and Trump.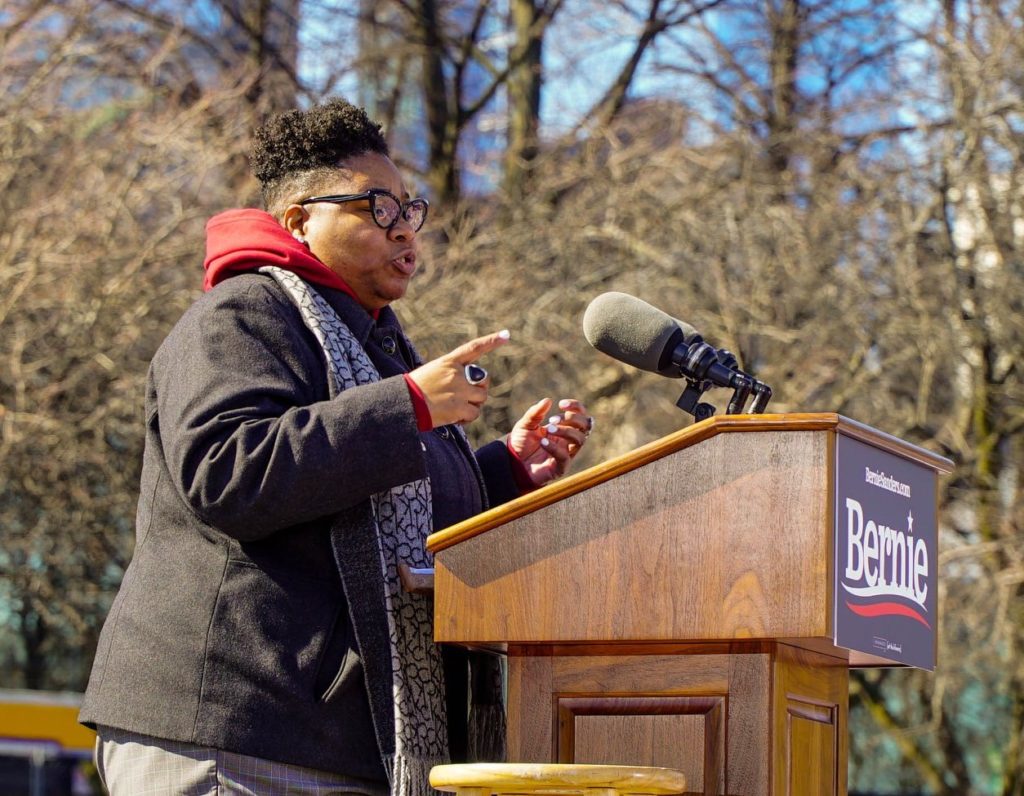 Rep. Jesus "Chuy" Garcia, D-Ill spoke last, introducing Sanders as the man who "endorsed a kid who grew up on Chicago's Southwest side for mayor."
Each speech, including Sanders' own, honed in on themes of health, power, and history—that is, Chicago history, personal or familial history, and Bernie Sanders' history of activism and policies that prioritize human dignity above all else.
Martese Chism of National Nurses United talked about being the great granddaughter of Birdia Keglar, who marched in Selma with Rev. Martin Luther King Jr. She talked about building a "healthier world," where black women do not die disproportionately in childbirth and described the US's current healthcare system as "not just broken, but unfixable."
United Electrical Workers President Carl Rosen gave a historical overview of, over the last 40 years, ways Sen. Sanders used his power "create a pro-union climate in Vermont."
Illinois Senator Robert Peters', D-Chicago, speech was mostly personal history, where he recounted his economic and emotional struggle as a black man who was born deaf, and whose biological mother was addicted to drugs and alcohol.
"In the last 30 to 40 years, we've been told to pick ourselves up by bootstraps that don't even exist," said Peters.
In 1964, Sanders earned his undergraduate degree from the University of Chicago. Semantically, Sanders made history as the first 2020 Democratic candidate to hold a public event in Illinois.
At the rally, I had a more significant historical detail on my mind: Sanders is the first candidate in history, Democrat or Republican, to win all three early voting states.
Lately, what follows this thought is, of course, Joe Biden's astronomical stride on Super Tuesday, where he won 664 delegates. This is due to the fact that, over the week leading up to Super Tuesday, we saw all of the other Democratic candidates drop from the race and endorse Biden. (Warren also stayed in after, seemingly overnight and despite poor performance, becoming the newfound largest recipient of super PAC money in the Democratic race.)
While this narrative isn't being acknowledged across a majority of corporate media platforms, Sanders supporters, independent journalists, and Sanders himself have theorized that this was a play but the DNC to band together against his historical delegate lead.
"The establishment put a great deal of pressure on Pete Buttigieg, on Amy Klobuchar, who ran really aggressive campaigns. Well, I know both of them. They work really, really hard. But suddenly, right before Super Tuesday, they announced their withdrawal," Sanders said on NBC's "Meet the Press."
The DNC is likely going to come down hard against Bernie again and again, but he still has a chance. While Biden has 664 delegates, Sanders is still nearby with 573 delegates. Whoever gets to 1991 first gets the nomination.
With this in mind, Sanders volunteers have doubled down on sending texts, donating cash, and hopping on the Bernie dialer. I should know, I'm one of them.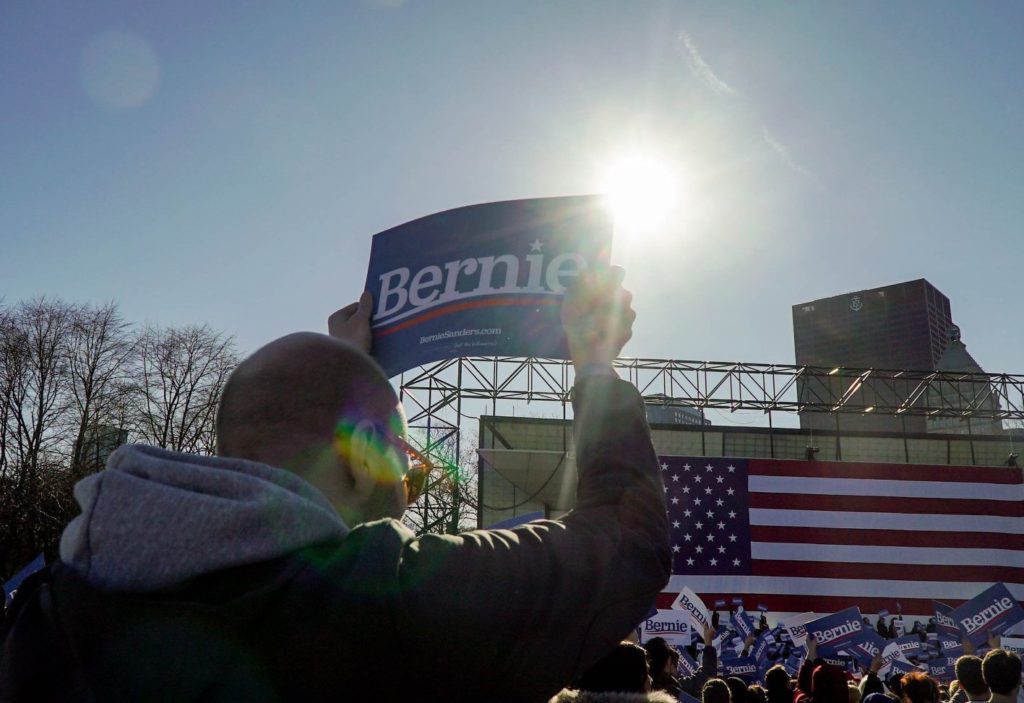 All who attended his rally are still rooting for Sanders. I remain hopeful, especially with this secret in mind: if the DNC didn't actually think Sanders could beat Biden, and furthermore, Trump, they wouldn't try so hard to blunt his delegate hauls.
The DNC's "Stop Bernie" efforts are materializing in two ways: attempts to manipulate voter turnout in the primaries, and media blows that either downplay Sanders' success and nationwide support, or try to dirty his strong history as a servant of working class people.
Another secret: Hilary Clinton, and, I'm willing to bet, other establishment Democrats with anti-Sanders agendas, have spent millions researching Sanders opposition strategies. If there was any real dirt on him, we'd know by now. 
Among small wording games that downplay Sanders poll leads, the DNC and corporate media have literally resorted to ahistorical red scare tactics, like trying to twist the care and dignity principle of universal healthcare into a theory that Sanders aims to instill an authoritarian regime that is upheld by the extra taxes he will trick us into paying.
At the podium, speaker Chicago Teachers Union Vice President Stacy Davis Gates said that she was "troubled by a narrative of moderation that tells us to wait for Medicare for all." This narrative of moderation, Gates explained, also tells us to wait for ICE to be abolished, for mass incarceration to be reformed, for police to stop murdering black men and women in cold blood.
"Moderation is a dream killer," said Gates. "Don't complicate it, don't make it too intellectual, don't quarantine yourself."
This is what I, and possibly many other Sanders supporters who are heavily immersed in mainstream media flow, needed to hear. Gates' words reminded me that Sanders' history speaks for itself.
What I mean is that the media gaslights those who think that Sanders is trustworthy based on his record, genuine based on his democratic socialist creed, and good for them based on the fact that he is leading a revolution that would quite literally save their futures. Conclusions that his supporters pull from Sanders' actions, not just his words. Though his policies are inherently humane, the media says, "This guy isn't what's best for you." Or "This guy has no chance."
All of the rally's opening speakers emphasized Sanders' record as an ally to people of color, working class people, unions, overseas victims of US military intervention, and women.
Sanders began his speech on the subject of Trump.
"Together we know that our differences are far, far less, than our differences with this dangerous president," he said. "So I say to the American people–Democrats, Independents, a number of Republicans, let us stand together for dignity and decency in the Whitehouse. Let us beat Trump."
He then emphasized his own policy history with a comparison between his and Biden's:
"But I think now that the primary nomination process is coming down to two people, it is important to the American people, the people of Illinois, to understand the difference between us in terms of our records, in terms of our vision for the future," he said. "We have different records, we have different visions. The American people will hear about it."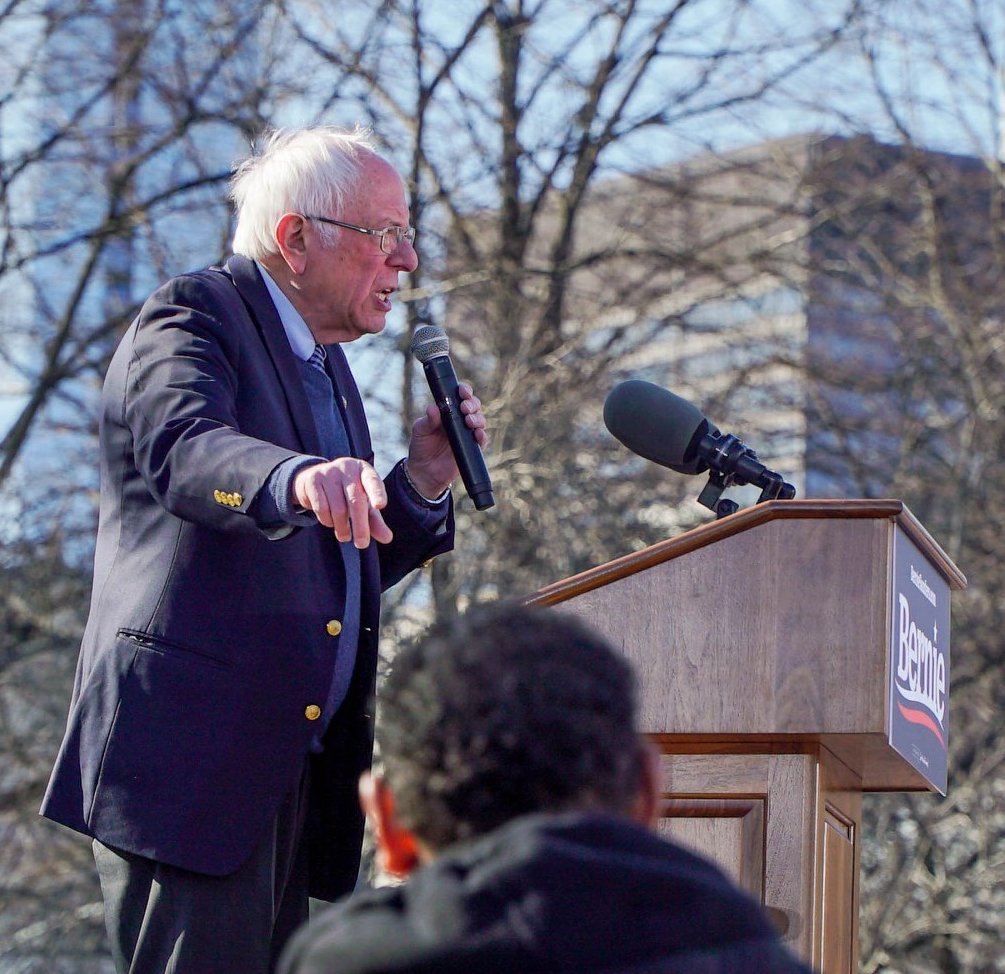 Language and timelines cannot codify the past 40 years of humanity into truth. That's the challenge with pulling meaning from history—there is so much material and never enough space and code for the unlimited context required to analyze stories accurately.
That is the case, at least, with Biden's history. With Sanders, it's simple.
"When Dick Cheney told us we had to invade Iraq, which was the worst foreign policy blunder in the modern history of this country–destabilized the region, cost us thousands of young, brave men and women from our own country, costed trillions of dollars–one of us voted for that war. That was Joe Biden," said Sanders. "One of us led the opposition to that war. That was Bernie Sanders."
The Vermont Senator contrasted himself and Biden notch by notch, where for every policy that hurt US people, Biden voted yes and Sanders voted no. He talked about his support for social security and his pro-choice voting record, and Wall Street in 2008, when George W. Bush signed a $700 billion bailout to relieve the very people who tanked the US economy.
"One of us voted for that outrageous bailout, that was Joe Biden. One of us led the opposition to that bailout, that was Bernie Sanders," he said.
Sanders also talked about NAFTA's damage to US workers: "We engaged in a race to the bottom, where wages actually went down. There are manufacturing workers today in America making 9, 10, 11 bucks an hour."
How did he bring the timeline to the present? With his historical, grassroots funding whose contributions average $18.50 each.
"Let me be very clear," said Sanders. "I don't have a super Pac. We don't want a super Pac. We don't need a super Pac. I don't go to billionaire's homes for campaign contributions. We're gonna win this election because we have received more campaign contributions from more Americans than any campaign in the history of this country."
Saturday was the sunniest day Chicago has seen in a while—seriously, my face is burnt. But it's burnt from gazing up, through the sun rays, toward Bernie Sanders at his podium.
"As the son of an American working class family, I am proud to tell you, this campaign is for the working class of this country. It is standing with the working class of this country. And it is funded by the working class of this country," said Sanders. "And this is a working class in America [that is] Black and white and Latino, Native American, Asian American. This is a working class sick and tired of seeing wage stagnation, and all new wealth and income going to the top one percent"