Pictured above: Denise Yvette Serna/Photo: Juli Del Prete
We're introducing a new, bi-monthly segment into our theater section at Scapi, in which we ask DIY theater artists and creatives around Chicago a question about what's going on in the DIY theater and performance community.
The world of DIY theater and performance is constantly changing, evolving, ebbing and flowing. Learn about what  theater and performance artists are excited for that's coming to the DIY community in the near future with this week's question:
"How do you define DIY theater and performance?"
Emerald Catron; Producer of Bristleburg Town Hall:
"On a broad level, I think it requires owning the production top to bottom and start to finish. I don't want to get into specifics, because I don't think my opinion is well-formed enough to say anything that isn't at least 50% bullshit." 
Denise Yvette Serna; Creator, Director, Facilitator, Activist, Co-Founder of Global Hive Laboratories:
"​DIY theater and performance ​come from a place within the artist that exists outside of the conventional western theater model. It is the creation of something that is entirely on the artist's own terms. DIY theater celebrates the voice of the artist. DIY theater harnesses an artist's flaws as powerfully as their talents. DIY theater is community created intentionally. DIY theater achieves success through the realization of artistic discovery and the ability for artists to sustain their work on their own terms." 
Jo Schaffer; Company Member of Runaways Lab Theater:
"I think a DIY theater is defined by its lack of definition. Being relatively new to the scene, I'm learning that it's DIY when you have to assemble resources with little to no, well, resources! With that being said, I suppose the definition is self-explanatory and also up for redefinition "Do [Insert It] Yourself"!"
Gannon Reedy; Artistic Director of Runaways Lab Theater, Game Master of the Neoscum Podcast, Iconoclast:
"Cheap, fast, dirty."
Are you a DIY theater artist who likes to answer questions about the work you're doing in Chicago? Email danielle.levsky@gmail.com with your interest to be featured on a DIY Quotes from DIY Folx*.
* Because this is our first installment of this weekly segment, we wanted to explain why we decided to go with the term "folx" over "folks." Though the term "folks" is recognizable and still inclusive, "folx" has the same pronunciation but takes the inclusivity one step further. By using the term "folx," we directly state our support and solidarity for all people with a non-normative sexual orientation or gender identity.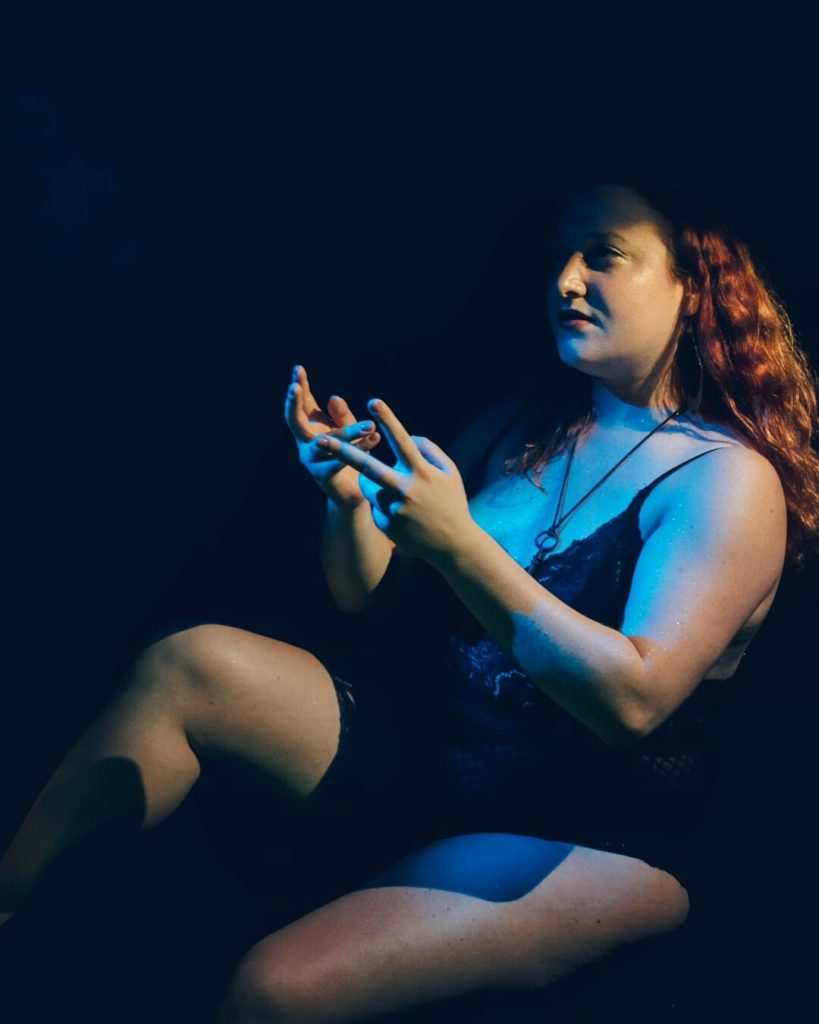 Danielle Levsky (she/her/hers) is the Theater Editor of Scapi Magazine. She is a feminist, Jew, poet, essayist, performance artist, and instructional designer. In addition to her work at Scapi, she has covered community news, arts reviews, lifestyle editorials, and cultural events for several publications. Between February 2018-2019, she completed a fellowship where she wrote a collection of community-engaged essays about her identity and heritage. She also writes typewriter poems on demand with Poems While You Wait. Follow her on her poetry Instagram to read some works in progress.