photo by Lars Plougman
According to Curbed SF, California voters soundly rejected Proposition 10 on Tuesday night, electing to preserve the state's 1995 Costa-Hawkins Act and its profound restrictions on local rent control laws. The California secretary of state's office reported Tuesday night that an estimated 64 percent of California voters voted no on Proposition 10.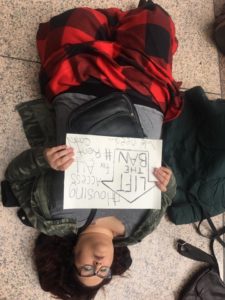 Here In Chicago, the Lift the Ban Coalition has been gaining in attention, advocating for a repeal of the state's 1997 Rent Control Preemption Act, a law that prohibits municipalities from enacting any form of regulation on residential or commercial rent prices.
The Act established in 1997 in Chicago reads as follows:
"A unit of local government, as defined in Section 1 of Article VII of the Illinois Constitution, shall not enact, maintain, or enforce an ordinance or resolution that would have the effect of controlling the amount of rent charged for leasing private residential or commercial property."
As reported by Block Club Chicago, a question on whether the state should lift its ban on rent control was on the ballot Tuesday in three Chicago wards, specifically the 35th, 46th and 49th wards. This follows the same question being asked to voters in the 3rd, 4th, 5th, 7th, 12th, 22nd, 25th, 27nd, 33rd and 36th wards in March, with support for lifting the ban at around 75 percent.
On Tuesday, in each of the three wards, at least two-thirds of voters supported lifting the ban: 71 percent in the 35th, 70 percent in the 46th and 66 percent the 49th, according to vote totals posted by the Chicago Board of Election Commissioners.
What all of this means for Chicago and Illinois at large is that it finds itself in an interesting position, to attempt to not find itself in the same position that California did this election.
While it's fair to point out that the No on Prop 10 campaign in California was an aggressive marketing tactic that used the jobs Silicon Valley brought in to hint that rent control would do more damage than it would solve. It convinced voters to vote against their best interests, in favor of neoliberal financial practices that have seen rents in California skyrocketing. 
The No on Prop 10 campaign targeted middle-class homeowners that would want to rent their property, when in reality this is no where near the landscape of rentals in California. In fact, apartment complexes are on the rise, and these developers are charging more for them under the guise of luxury living.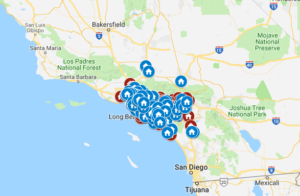 According to The Orange County Register, in the last 34 months alone, more than 37,000 new apartments have been built in the region San Clemente to Sylmar, and from Murrieta to Marina del Rey since the start of 2015, data from commercial real estate tracker CoStar show. More than 36,000 more are under construction.
This all is taking place in a state that overwhelming votes democratic, and that is statistically and culturally viewed as liberal.
In fact, the Gubernatorial race was an overwhelming rejection of Republican ideals. The Democratic nominee, Gavin Newsome, won handily with 59% of the vote, according to Politico.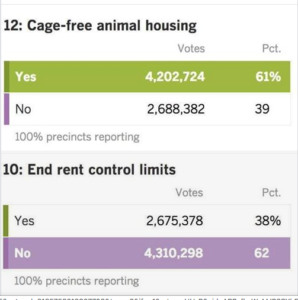 This feels further polarized when considering California's growing organization around animal cruelty and veganism.
Once seeming like a radical idea, Prop 12, the vote to establish a minimum space requirements based on square feet for calves raised for veal, breeding pigs, and egg-laying hens and banning the sale of (a) veal from calves, (b) pork from breeding pigs, and (c) eggs from hens when the animals are confined to areas below minimum square-feet requirements.
This is tangible proof of a fundamental misunderstanding of liberalism in American politics. Liberalism does not inherently mean to the left, it does not inherently mean working from the bottom of social structures.
As defined by global politics, liberalism is the prioritizing of individual freedom over the needs of the government or the many. In that line of thought, both Republicans and Democrats hold intrinsically liberal values. Recognizing and actualizing identity of race, gender, and ability is a liberal thought, but technically so is the freedom to amass wealth (aka neoliberalism,) as well as the freedoms spouted by the NRA and the religious right.
Now, I'm not dense- I'm aware that this is not how liberalism is painted in American politics. Liberalism is frequently conflated with socialism or communism, but this is dangerous to the ideologies within liberalism and the disenfranchised populations it claims to protect.
It's a right-wing conflation that mixes liberalism and socialism, and it's the left's fault that this distinction has been let to run so rampant.
In short, liberalism means freedom. It means freedom on both sides of the aisle, and either side of the aisle are entrenched in their own manifestation of individual freedom, for better or worse.
What it means for rent control is that rich landowners have the freedom to fund statewide campaigns against lifting rent control bans, and muddling the interests of the voter under the guise of individual financial betterment. This will be the undoing of the campaign to lift the ban on rent control, if left unchecked. This is what Illinois is up against in the fight for rent control going forward.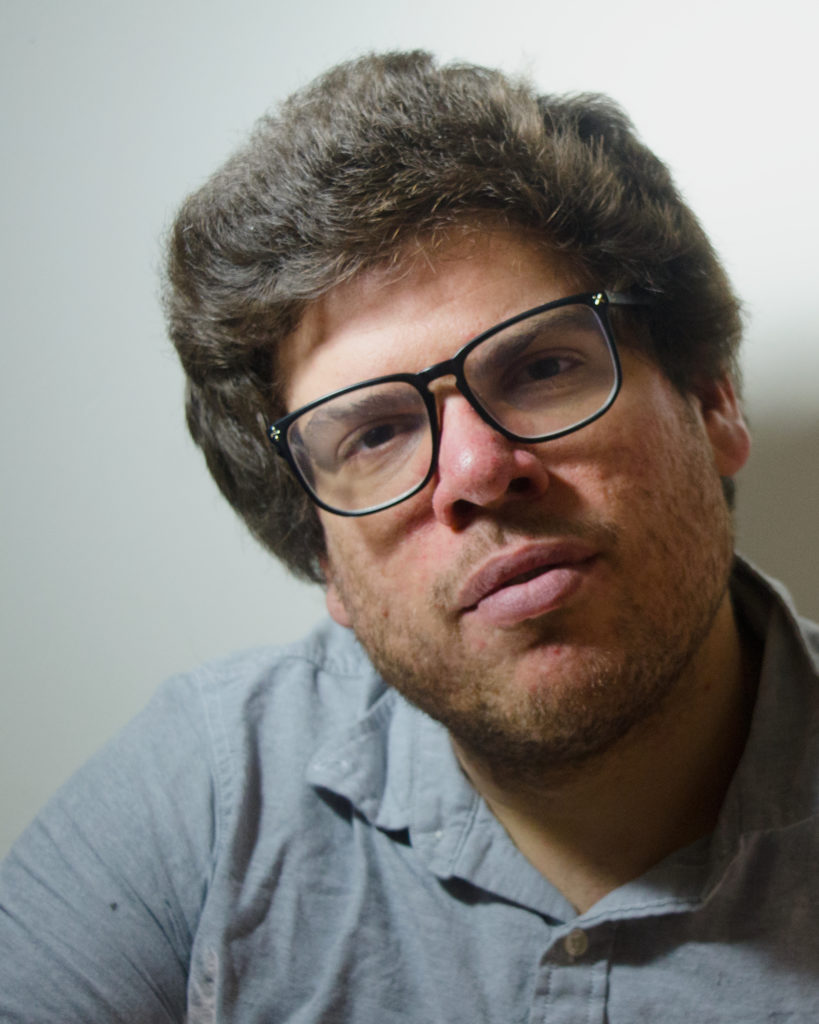 Daniel Johanson (he/him) is a journalist and digital media specialist living in Chicago, Illinois. He serves as Editor-in-Chief at Scapi and in that capacity manages all things content, including writing and editing articles and producing digital content. His most recent work includes the docuseries Heart of a Nation: Tracking Socialism in the Midwest and co-hosting the podcast Scapi Radio. He spends his free time with cats.