Pictured above: Emilie Modaff in Boy, Bye at Judy's Beat Lounge/Photo: Stephanie Mateja
Possibly the most rewarding aspect of being an underground arts journalist is the complexity of the art—the type, the variety—with which my subjects engage in.
Enter Emilie Modaff: an actor, writer, musician, storyteller, podcaster, tarot reader, reiki practitioner, performance artist, producer, and casting director. They encompass many of the qualities I find in underground artists, but the diversity and urgency with which they make their art was unique to me from the get-go.

"Sometimes I wish I had a main medium," Modaff told me over dinner in May 2018. "I feel very scattered, like I don't know what I'm best at. I feel like I'm spread so thin that I don't have time to be the master of one thing. I don't know if being the master of one thing is my style, or if being everywhere all at once is more like it."

Creating every day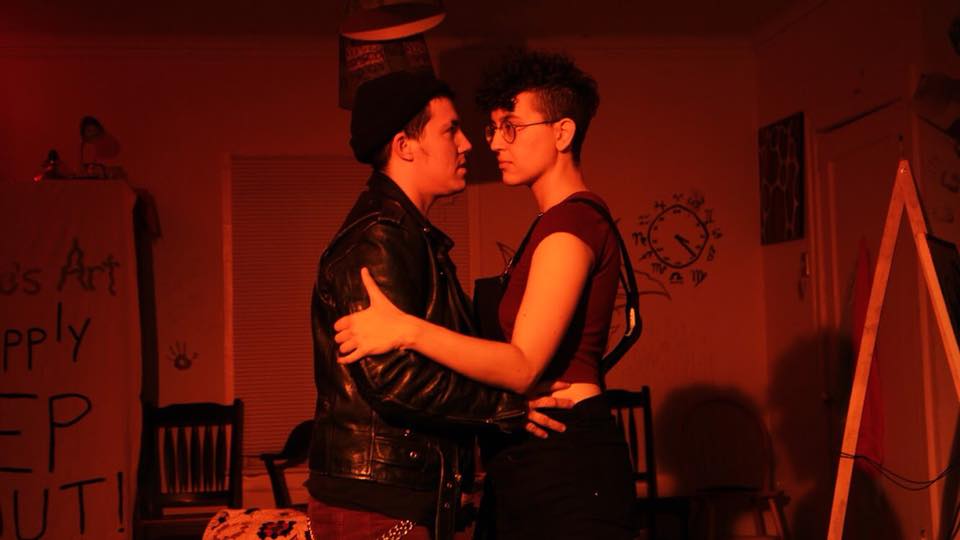 I first saw them perform in November 2017 in Bobby Pin Girls, where they were able to seamlessly transition between humorous banter and palpable dramatization. They had a strong control over their own character, Bree, as well as their interactions with others.

"[Bobby Pin Girls] was really personal because I was that character," Modaff said. "Bree and the story of Danny and Bri's relationship was easy to relate to based on my own experiences. The couch they used during the show, where Danny and Bri had all their fights? That's the same, exact couch I had in my apartment where my ex and I fought. Even though it is a funny script, at the end of each show, I just wanted to go home. I was living what I already lived."

That particular night, the genre of the play fell somewhere between farce and drama. Modaff told me that a lot of improvisation took place between the characters, which, to me, explained the smoothness with which they shared the stage with others. In particular, their scenes with Peter Wilde (who played Danny), were incredibly layered in both physical and verbal execution.

"[Wilde] is a great scene partner," Modaff said to me. "We met at auditions. I saw him come in and immediately thought: "Oh no… This person is beautiful." We had a really good connection in the audition room, then later had similar reactions and experiences with the storyline, with toxic exes. Now we're dating. Now we're getting married. All from this show!"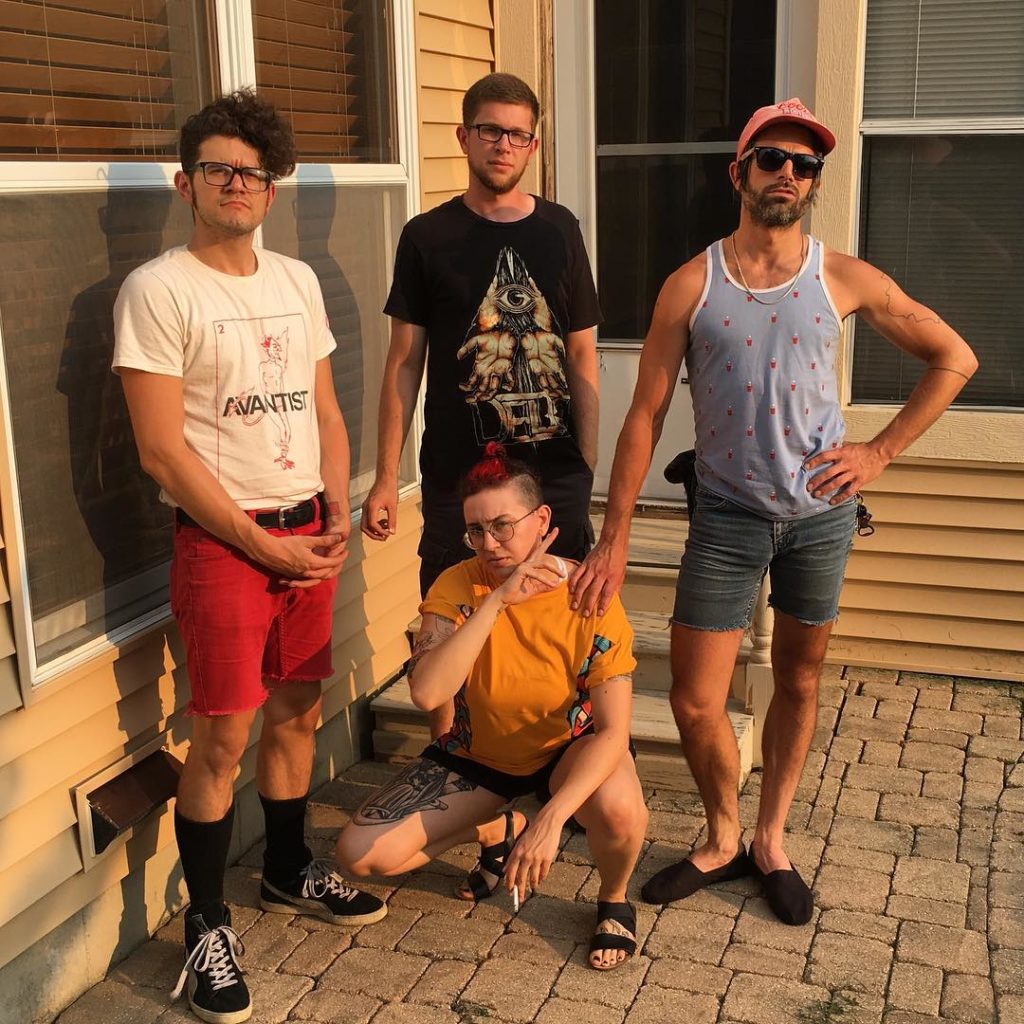 Their excellent rapport translates far beyond their stage partners. I watched them play with their band MODAFF at an April show at Burlington Bar, with Mykele Deville, Counterfeit Madison, and Tragic Trip on the ticket. Modaff shared a stage-worthy and life-worthy camaraderie with their bandmates, other performers, and attendees of the show.

I then saw them open for Pop Magic Productions' album release show for Nire Nah's album release showCoeur Age. They performed a spoken word poem set to music. 

"I wrote that poem/piece/stream of consciousness during a manic episode," Modaff recounted.

I remembered how they told me they were nervous before their Coeur Age performance, and how the moment they stepped on stage, I saw that feeling fade. Their voice was controlled, and the rhythms of the guitar and looping pedal were seamless. The dynamics of the piece crescendoed until they culminated with a peak.

"I wrote this mess of a thing and fell asleep," Modaff continued. "I made it through my episode. The next morning, I edited it once, then again, then performed it twice without any music. [Nah] saw it, liked it, and wanted me to perform it at her album release show. I wanted to expand it, and I had just bought a looping pedal. The way the loop and sound complemented the piece is what I feel in my head when I have mania. That static, that reverb going back from ear to ear, those thoughts are what I'm thinking. Performing it feels like mania feels."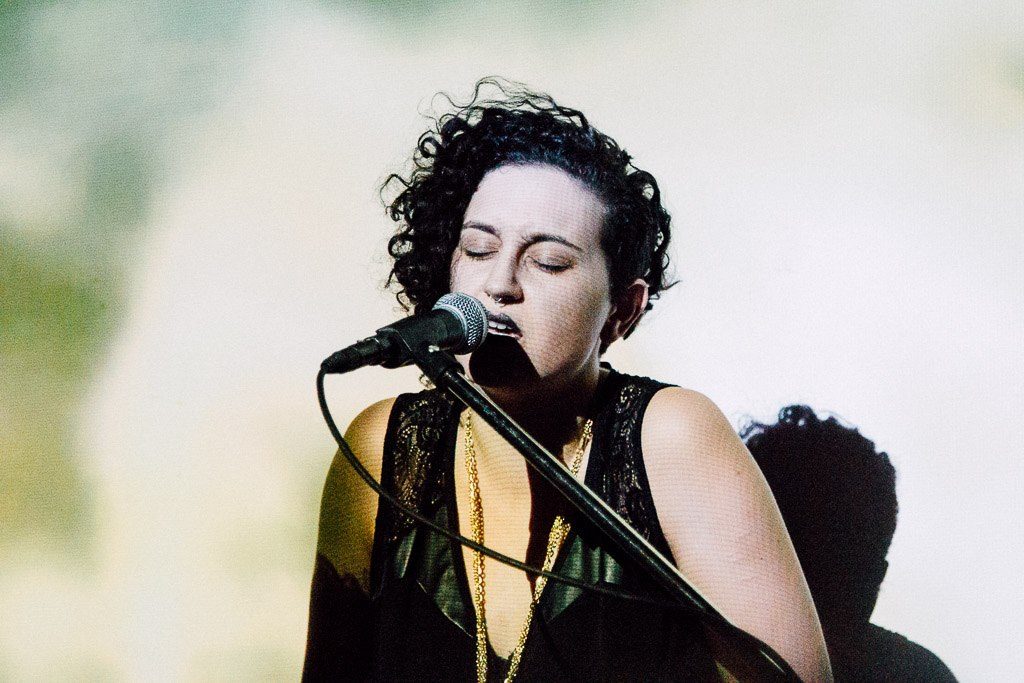 I noticed that Modaff has an interesting performance tendency: alone, they are exuberant and controlled, and with others, I do not experience the full span of their exuberance.

"I feel less vulnerable when I'm with a group because I have support, but I don't mind playing alone because I have more freedom to experiment and fuck up," Modaff said. "I'm learning and trying to figure out how to have a voice in a group. I don't exactly knoe what my voice wants to be."

It is stunning and fascinating to watch a multi-talented artist grow in their career. Modaff and I developed a friendship, and this gave me even more interest in their artistic development.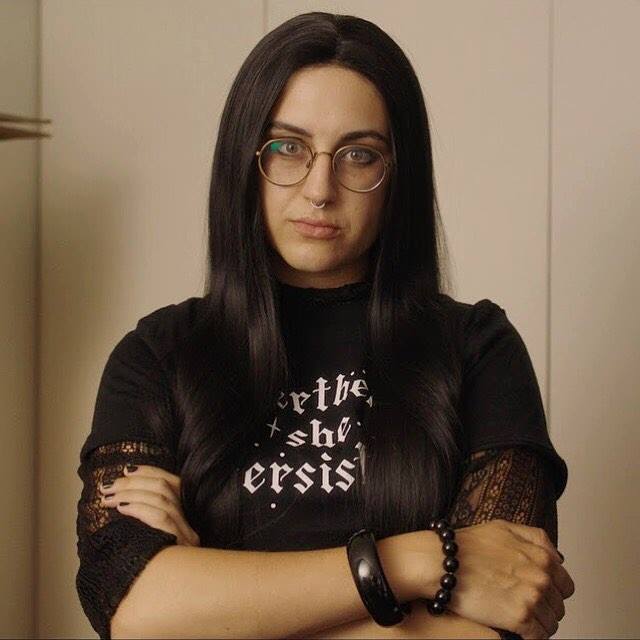 I watched them play piano as the Musical Director for An Existential Cabaret, then perform their "bike redemption story" at OUTspoken, an LGBTQIA+ monthly storytelling event at Sidetrack. I watched Iron & Wine's music video for "Bitter Truth," for which Modaff was the casting director. I watched the web series Kappa Force, a satirical show that examines the complexities of toxic masculinity within Greek life on college campuses; Modaff was the producer and also played Chartreuse, a character embodied the "stereotypical "freak" archetype." I perused their Vimeo (that Salonathon performance, though) and Youtube for more examples.

As a result of my Modaff deep dive, I confirmed that they do, indeed, engage in many artistic mediums, but they earnestly commit themselves to each medium with fine-tuned concentration. Like in the initial performances I witnessed, they continously play off their scene partners with generosity and flexibility.

Unfortunately, typecasting is still a common thread for all varieties of performing artist. Modaff, for instance, pointed out that they often get typecast as a drug addict.

"Typecasting like this treats drug addicts as a monolith," they said. "So many film and theater folks say they are progressive and inclusive, yet they cast their lesbians as skinny, boyish white girls. They can't even cast trans people as trans people."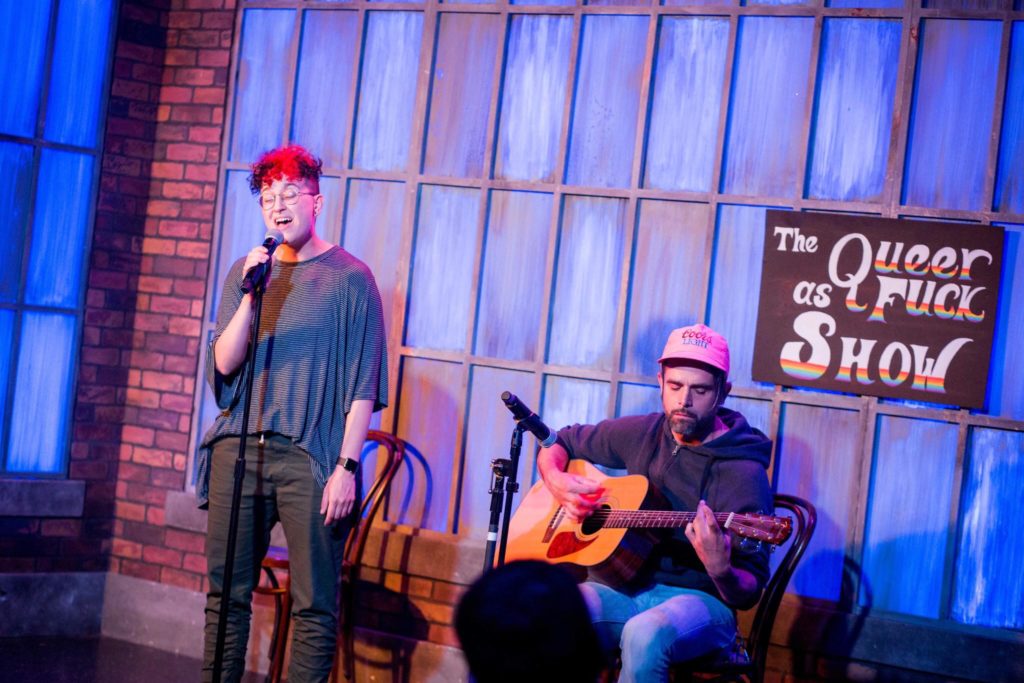 Their frustration with this thread translates into the work. Every self-produced or collaborated I effort of theirs I witnessed was presented with their own individuality.

"I'm never going to be cast as the romantic love interest," Modaff said. "I'm always going to be the best friend or the punk. I think to myself, 'whatever, it's fine, I'll make my own art.' But are you telling me that all drug addicts have piercings and tattoos? They don't. I've been to rehab."

Their dedication to highlighting the experience of disenfranchised folks makes them a better performer, overall.

Making better art

Music became a mainstay in Modaff's life at eight years old. But in high school, they stopped practicing and playing music consistently.

"I was doing drugs, drinking, being depressed, and in my feelings," they said. "I picked it back up seriously in the last three years. I've lost a lot of my technical skills, which is discouraging."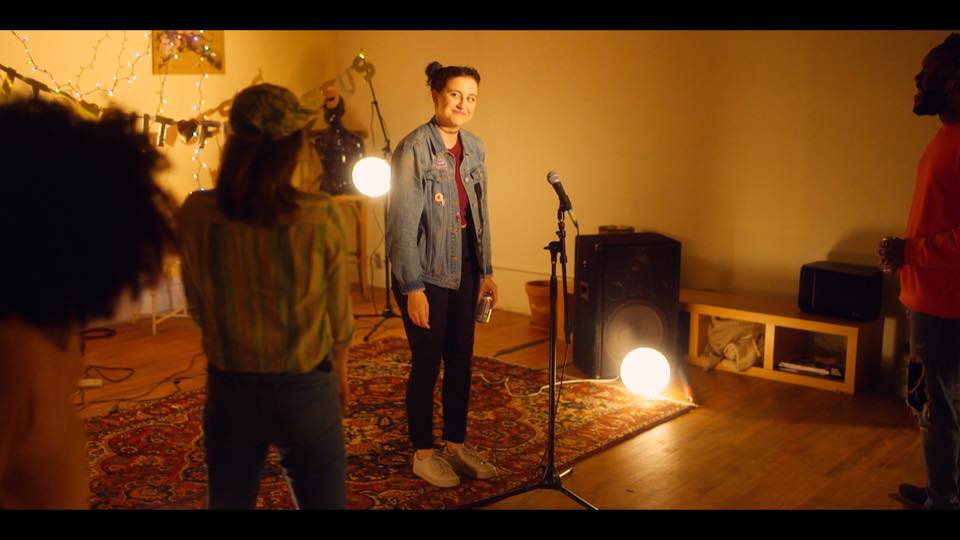 Modaff has been open about their experiences with mental health, addiction, and recovery; they've written articles for various outlets and frequently discuss their experiences as a sober artist.
"When I stopped getting fucked up, I started making better art," Modaff said. "At the same time, I feel like an outcast when I don't go out drinking with the cast or the band."

In 2016, Modaff got sober and the song "Hip Blossoms," that they now perform with their band MODAFF, came into being. During the first week of their sober journey, Modaff would call over their friend, Deville, to hang out, stay up, watch True Crime, and talk about music. Modaff and Deville originally met in 2015 at the Dojo. At the time, they were in a music collective together called Kid Made Modern; after the collective split ways, they remained friends.

"He writes songs like it's his job," Modaff recalled. "I had a chorus and hook stuck in their head. We talked about my idea, what the song was about, and we co-wrote ["Hip Blossoms"] together. Then, I brought it to Kid Made Modern and we made our dreams come true."

In 2017, MODAFF and Mykele Deville recorded the song together with MODAFF. They continue to perform the song today.

Putting it all out there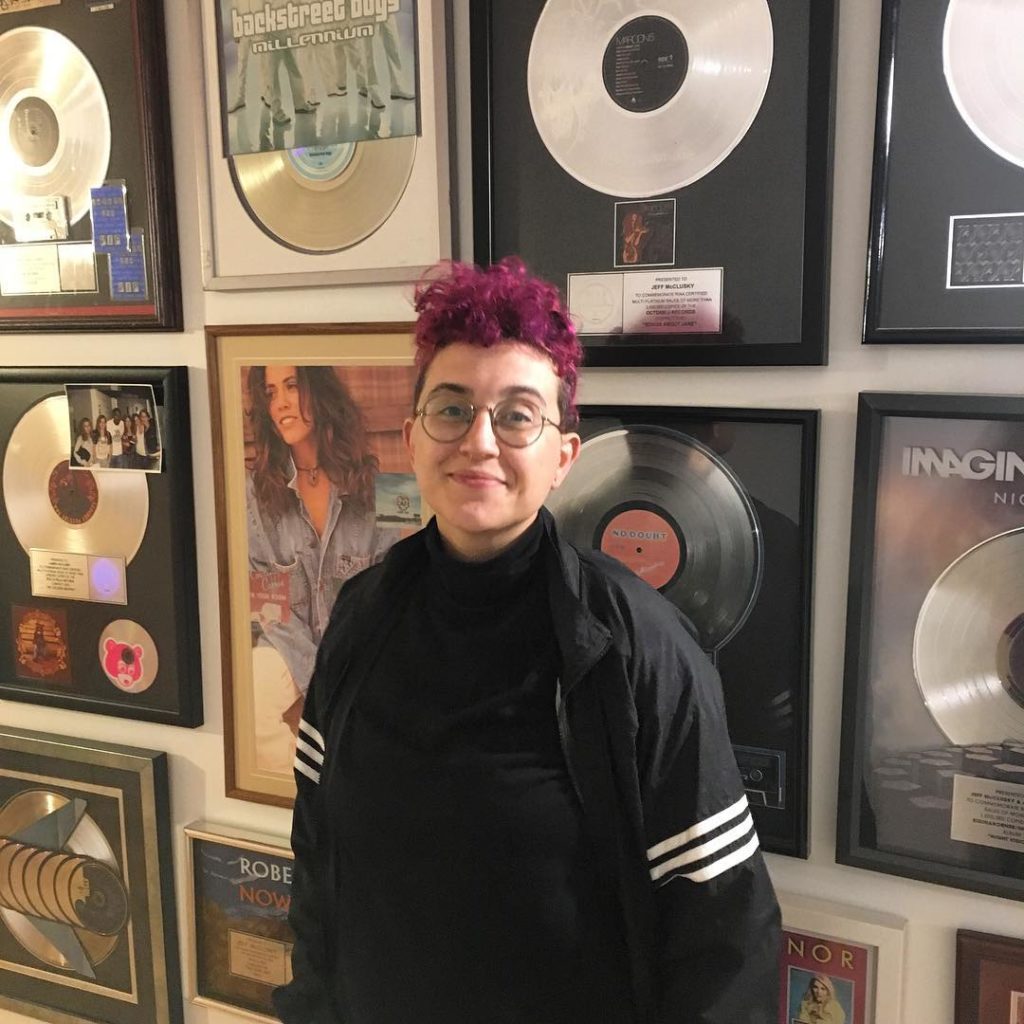 Since May, I witnessed Modaff transition from their customer service day job to freelancing full time as a reiki practitioner, tarot reader, theater artist, and musician. Their community supported them in getting the funding needed for MODAFF to release their first album.

In September, I was invited to watch MODAFF record their album at Audiotree, with Brok Mende as their recording engineer. I met their fellow bandmates—Andy Modaff, Chris De Salvo, and Josh Stanley—and remembered how Modaff told me how they help them take broad, generic song ideas and make them more nuanced.

"I have an issue with not releasing anything until it's perfect," Modaff said. "My goal with the album is put it all out there, make sure the sound quality is good, but not be too precious with my work. Just get something out there."

They continue to create with fervor. Modaff performed in rediscover theatre's Les Innocents, started writing astrology articles for Scapi Magazine, and releases their debut album with MODAFF today. In 2019, they will be performing in Red Tape Theatre's In the Blood.

"I used to think I just wanted to be a musician or just an actor, but all those things inform each other," Modaff said. "Every time I do a solo performance, I become a better musician, actor, and podcaster. And a better human. I don't think I ever will just do one thing."

MODAFF's first full-length EP album "Clean House" is now live. You can listen to their music on Soundcloud and most other streaming platforms. You can also see Modaff in Theater Wit and Pieus Productions' Afterparty at the Wit on Saturday, December 15 at 10:30 PM, where they will be performing holiday songs with fellow MODAFF band member De Salvo.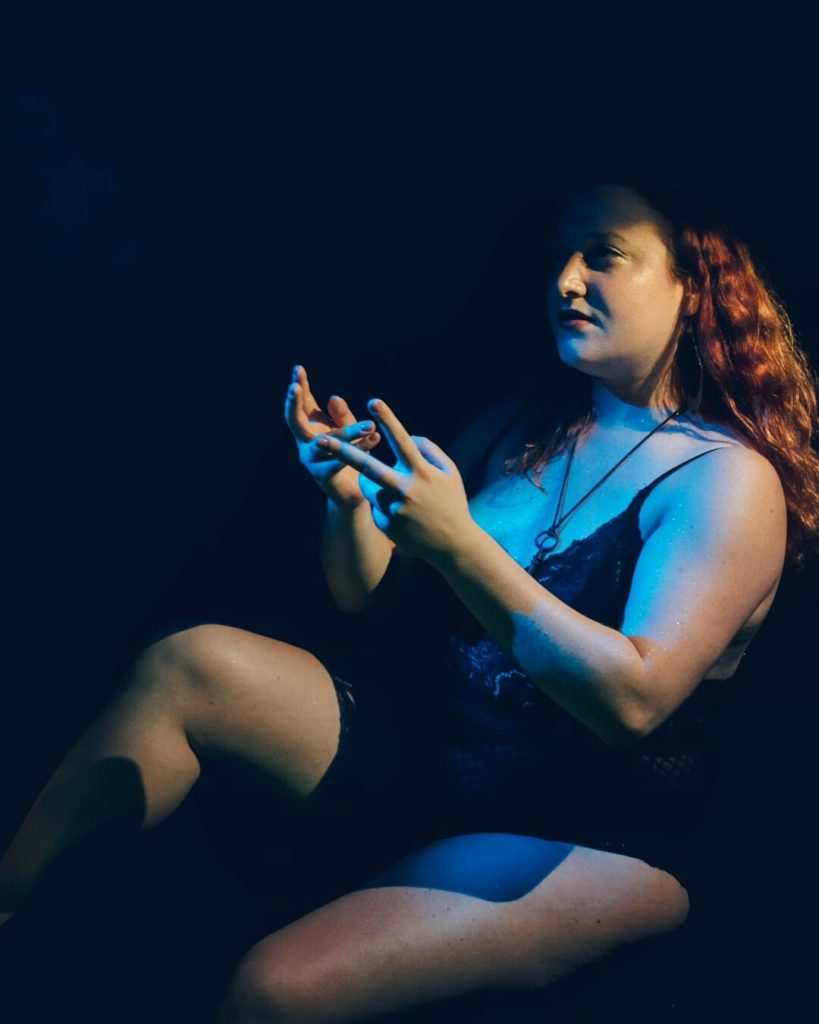 Danielle Levsky (she/her/hers) is the Theater Editor of Scapi Magazine. She is a feminist, Jew, poet, essayist, performance artist, and instructional designer. In addition to her work at Scapi, she has covered community news, arts reviews, lifestyle editorials, and cultural events for several publications. Between February 2018-2019, she completed a fellowship where she wrote a collection of community-engaged essays about her identity and heritage. She also writes typewriter poems on demand with Poems While You Wait. Follow her on her poetry Instagram to read some works in progress.